Stay at the hillside villa of Thalasa and enjoy panoramic views of Lefkada
The Bay of Desimi has to be one of Lefkada's most mesmerising spots, where the translucent waters of the Ionian Sea meet gently rolling hillsides covered in an emerald quilt of trees. If you fancy a stay in this little snippet of utopia, we highly recommend a villa known as Thalasa.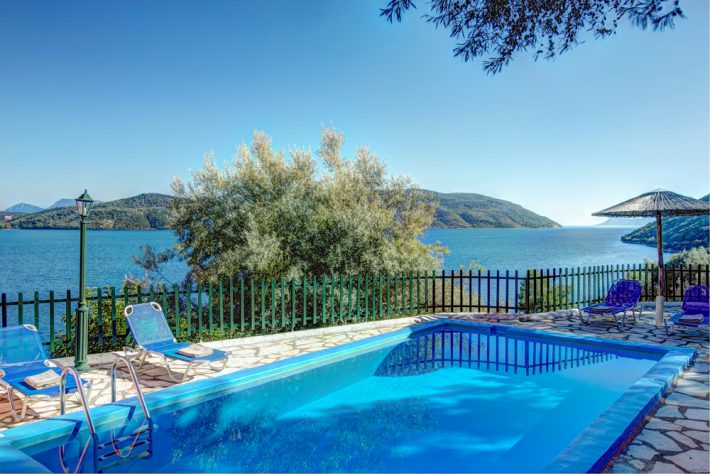 One of a handful of villas nestled on the hillside above the bay, Thalsala comprises of two bedrooms and two bathrooms, sleeping four guests. This spacious and inviting country home capitalises on its elevated position, with large windows designed to showcase the stunning views on Thalasa's doorstep.
The interior is bright, fresh and inviting, with the open-plan living room conveniently flowing into the well-equipped kitchen. Each of the bedrooms are en-suite, meaning guests don't have to squabble about who's in the shower first!
The bedroom to the front of the villa has access to its own private balcony, where, as you can imagine, the views are second-to-none.
Externally, open and shaded terraces provide plenty of places for guests to sunbathe or enjoy some respite from the sun with a good book. Adjacent to Thalasa's private pool is a terraced hillside, flanked by gnarled olive trees which are centuries old.
Providing some light, other than the twinkling stars, when the sun finally sets below the horizon, is an antique lamp post that lights up this Thalasa's magnificent grounds.
Guests staying at this beautiful and well-facilitated villa can reach the water's edge down a quirky hillside path. Quality tavernas and restaurants are just a short walk or drive way, as are several shops in the local town, which are less than 4km from the villa.
Being one of four sister properties, including Votsalo, Akrogiali and Flisvos, Thalasa would make a great choice of accommodation for larger parties looking for their own privacy.
To drool over photos of this fabulous villa, to read more information, check prices and make a booking, visit Thalasa's webpage here.