06 Apr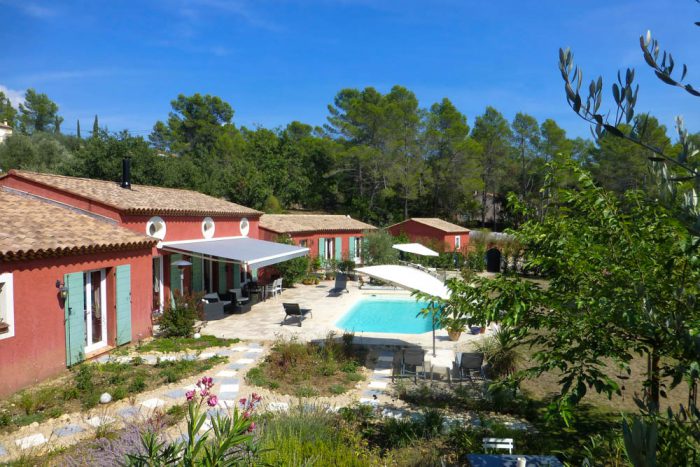 La Villa en Rose is a fabulous, contemporary villa that is just a five-minute drive from the pretty village of Bagnols-en-Forêt in the verdant hills of Fréjus/Saint-Raphaël on the ultra-desirable Cote d'Azur, just an hour from Nice Airport.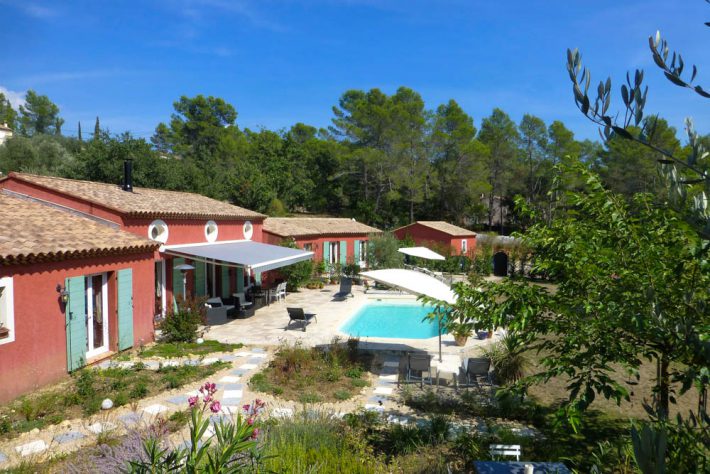 This five-bedroom, five-bathroom villa can sleep between 8 and 9 guests. With three of the bedrooms accessed externally from the garden, La Villa en Rose is perfect for guests seeking a degree of independence.
Though the focal point of this stylish villa is undoubtedly its vast open-plan living/dining room, with a modern hanging stove being the area's eye-catching centrepiece. French doors lead from this fabulous living area onto the poolside terrace, which is geared towards some serious al-fresco living.
These spacious and enclosed grounds are brought to life with a well-maintained lawn bordered with plants and herbs, an inviting private swimming pool, a spacious dining terrace with electric awning, and a gas barbecue for ultra-convenient dining under the cloudless sky this part of France is typically blessed with.
A 2.5km stroll from Villa en Rose will bring you to the picturesque hilltop village of Bagnols-en-Forêt. A maze of narrow streets lined with quirky artisan shops and a great selection of bars, cafes and restaurants, lead to this beguiling town's main square.
The town is adjoined by the coastal mountain range known as the Esterel Massif, characterised by its imposing red rocks which caress the shores of the Mediterranean Sea. This extraordinary mountain range is perfect for hiking, walking and cycling along its many mountain trails, just don't forget to take your camera, and a map!
For a more relaxing day by the sea, the beautiful beaches at St Raphaël are highly recommended. La Villa en Rose is only available to rent in July and August 2018 and 2019 whilst the owners travel. If you would like to view photos of the property and make a booking, you can do so at the villa's webpage here.