23 Feb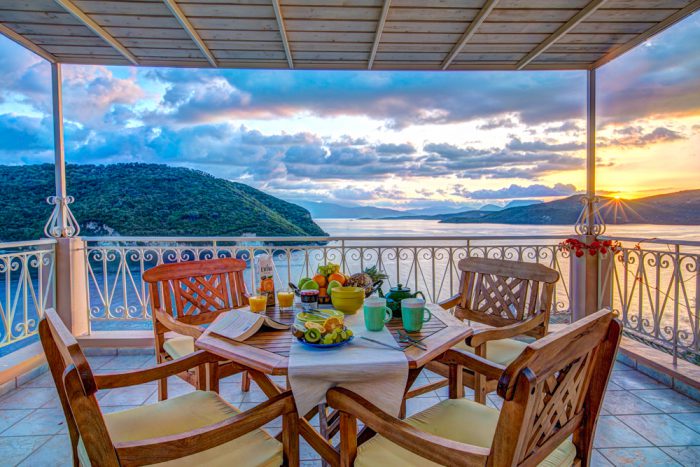 Renowned for its exotic water, stunning beaches and verdant rolling landscape, Lefkada Island is a truly beautiful part of the world. If you are looking for quality accommodation to do the beauty of Lefkada justice, then look no further than a villa known as Votsalo.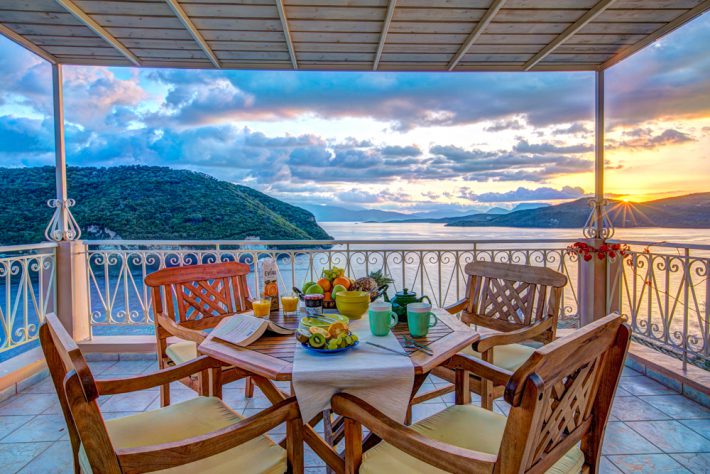 This two-bedroom, two-bathroom villa sleeps four guests. With an elevated position, nestled on a hillside, Votsalo boasts the most captivating of views across the cobalt waters of Desimi Bay towards the beautiful islands of Thilla and Meganissi, and the imposing mountains of mainland Greece in the distance.
To fully capitalise on Votsalo's enviable position and remarkable views, the villa has been designed 'upside down'. The open-plan kitchen and dining/living room is located on the upper floor, where guests can relax on the comfortable sofas and gaze through the large picture windows, taking in the breathtakingly beautiful seascape that's on the villa's doorstep.
Candlelit dinners overlooking this idyllic vista are there for the taking as French doors lead conveniently from the living area to an outdoor terrace. The villa's bedrooms are situated on the lower floor, both of which have en-suite facilities. The principle bedroom has access to a large terrace, another spot for drinking up those remarkable seascape views.
With quaint pathways winding their way round the hillside garden, which leads to the rocky shoreline and pretty bay below, Votsalo's garden is crying out to be explored and enjoyed to the maximum. And with a private pool that's lit up at night and a spacious sun terrace, this stunning villa's exterior is justifiably designed to spend time in and gaze in wonder at the unrivalled vista that surrounds it.
For evening dinners away from the villa, authentic Greek cuisine can be sampled at the waterside tavernas of Desimi, which is just 750m from Votsalo. The livelier coastal village of Vlicho, where fishing boats and private yachts bob up and down in the pretty bay, is 2.8km from the villa by foot. With plenty of cafes, tavernas and shops, encircled by verdant valleys and dramatic mountains, this atmospheric little town has become one of the best tourist attractions on the island.
If you would like more information about Votsalo or to make a booking, visit the villa's official webpage.