21 Oct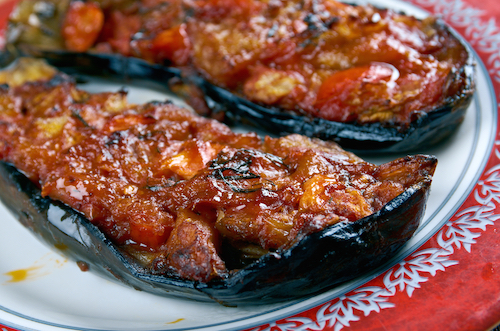 One of the greatest pleasures of travelling to Italy is discovering the many delicious dishes the country is world-renowned for. Italian cuisine is strongly influenced by local traditions and histories and none more so than stuffed aubergine. This mouth-watering Italian delicacy owes its origins in "cucina povera". Cucina povera refers to the cook of the house making use of whatever ingredients were at hand and could be picked from the garden or even hedgerow.
Stuffed aubergines can be served hot or cold and make a fantastic delicacy at a dinner party. What's more they are ever so simple to make!
Take a look at how to make cold stuffed aubergine the Italian way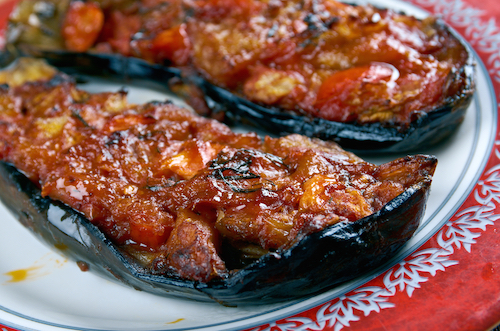 Ingredients
3 aubergines
Olive oil
1 cup of finely chopped  red onions
2 crushed garlic cloves
Tube of tomato puree concentrate
Fresh chopped parsley (flat leaf or curly)
4 anchovy fillets (tinned in olive oil)
Teaspoon of dried red pepper flakes
Salt and pepper to taste
Tabasco sauce to taste
Half kilo of minced beef or beef and pork
1 cup of grated Pecorino cheese
1 cup of bread crumbs
Method
Cut the aubergines in half and scoop out the white flesh leaving a 12 mm thick shell. Dice the flesh and drain on paper towels.
Heat 5mm depth of olive oil in a large frying pan. Sauté the red onions and garlic until soft.
Add the chopped aubergine to the oil and cook for two minutes.
Put the mixture in a large bowl and add a generous helping of tomato puree. Mix in the anchovies, the parsley and red pepper flakes. Salt and pepper and the tabasco to taste.
Brown the meat in the remaining frying pan oil then drain away the fat.
Add the meat to the aubergine mixture. Also add the grated cheese and the breadcrumbs. Load the filling into the purple aubergine shells.
Place the filled shells in a baking pan with 5mm of water in the bottom of it and cover tightly with tin foil.
Bake in a pre-heated oven at 370 degrees for 1 hour on the middle rack. Remove the foil and bake for a further 15 minutes on the top rack.
And there you have it, a delicious and authentic Italian dish that can be served hot or cold and preferably with a chilled glass of Italian white wine