23 Dec
The Verdon Gorge that carves its way into the terrain in Central Provence, is considered to be one of the most beautiful canyons in Europe and a must-see natural wonder of this part of France.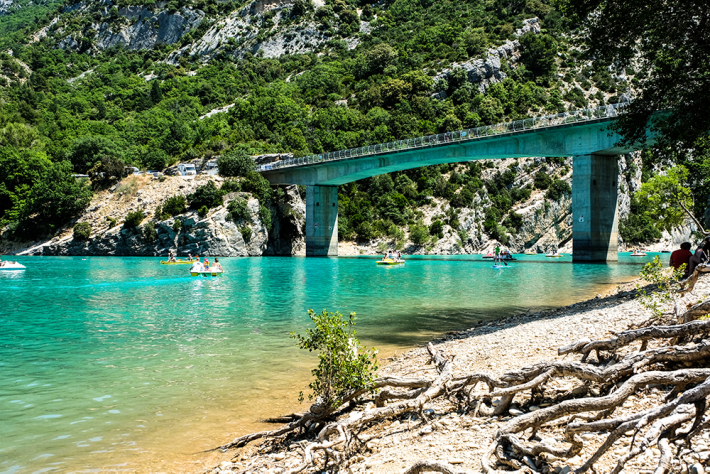 The gorge is approximately 25km long and up to 700m deep. This mighty ravine was formed by the Verdon River, which is renowned for its distinct turquoise-coloured water. At the end of the gorge, the Verdon River flows into the Sainte-Croix-du-Verdon, a stunning artificial lake that is overlooked by the pretty village of Sainte-Croix-du-Verdon.
Being not far from the glamorous cities and towns of the Cote d'Azur, taking a trip to the Verdon Gorge is a popular way for tourists staying on the French Riviera to spend the day.
The gorge is a hive of activity for rock climbers, who test their skills on the sheer limestone cliffs that cling onto the canyon on either side. With around 1,500 different routes winding their way through the limestone cliffs, rock climbers will never have to do the same route twice at the Verdon Gorge.
This immensely beautiful river is also popular for kayakers and canoers, who traverse their way through the stunning blue/green water.
The gorge is also home to spectacular hiking trails that accommodate for all abilities. One of the most popular hiking routes begins at the characterful little town of Moustiers Saint Marie and winds to the small medieval village of Trigance.
Birdwatching enthusiasts are also in their element at the Verdon Gorge, and this area of outstanding and unspoilt natural beauty is home to a hive of birdwatching activity, with eagles, vultures and other birds of prey, regularly seen circling above the dense forests that flank either side of the mighty Verdon Gorge.