08 Jul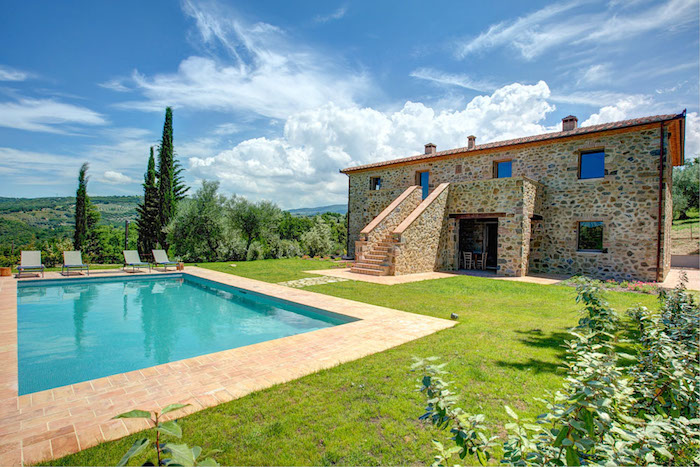 Recently renovated by its owners, Tenuta II Patriarca, nestled on the stunning slopes of Mount Amiata overlooking the breath-taking Val D'Orcia, is a true Tuscan treasure.
This spacious six bedroom, three bathroom house sleeps up to 12 guests in comfort. Given its privileged position, overlooking what has been described as one of the best views in Tuscany, and renovated to an exceptionally high standard, it is hardly surprising Tenuta II Patriarca has been named a Vintage Travel 'wow' property.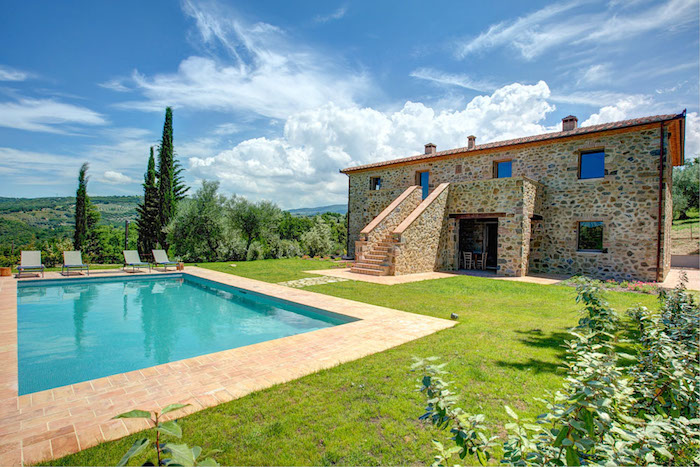 With hefty wooden beams facing hand-cut cotto flooring, quirky wooden finishes, period Tuscan art and an incredible island kitchen, Tenuta II Patriarca's owners, Gianluca and Marcello, have done a marvellous job retaining the 18th century splendour of this incredible stone country home.
The open plan living/dining room exudes old rustic charm, yet with underfloor heating and other contemporary touches, Tenuta II Patriarca is an 18th century home with a modern twist.
French doors lead from this grand room to the property's fabulous garden, comprising of well-maintained lawns, extensive terraced gardens, a covered terrace and a barbecue.
Taking centre stage of Tenuta II Patriarca's exterior is a large inviting pool, framed by an emerald vista of spectacular natural beauty.
With three well thought-out separate sleeping areas, each with their own kitchen, bathroom, living room and two bedrooms, Tenuta II Patriarca is perfectly designed for larger groups of up to 12. However, with small party rates for 8 and 4, smaller groups and families can enjoy becoming ensconced in this idyllic rural retreat. Tenuta II
Patriarca is even suitable for couples wanting a romantic Tuscan break.
Despite its secluded rural position and boasting the most incredible views of the Val D' Orcia, Tenuta II Patriarca is not far from the convenient amenities of a nearby town and is only 30 minutes from the pretty beach resorts of Orbetello and Talamone.
Just 7 kilometres from the house is the town of Castel del Piano, perfect for stocking up the fridge and the cupboards in Tenuta II Patriarca's kitchen. Further afield at approximately 28 kilometres from Tenuta II Patriarca is the town of Montalcino, home to the famous Brunello di Montalcino wine.
For further information, to view photos and to check availability for this magnificent Tuscan country home with the wow factor, visit the Tenuta II Patriarca webpage.