08 Sep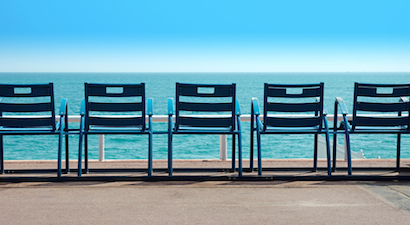 If you are going to the Côte d'Azur sometime soon, naturally you're in for a treat, particularly might we add, in terms of local cuisine.
France is world-renowned for serving top-notch and distinct cuisine and no more so than on the Côte d'Azur where the local gastronomy is relished by both locals and visitors.
Fortunately restaurateurs work hard to make the most of the internationally-celebrated cuisine and consequently there is an abundance of quality restaurants and bars with terrace dining.
Take a look at three of the best terrace dining options on the French Riviera where you can enjoy world-class food, tantalising wine and views that will be etched onto your memory for a lifetime.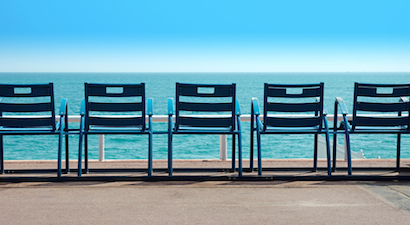 La Reserve
Nestled on the cap of Nice, La Reserve sports panoramic views of the stunning Baie des Anges and beyond. Whether you are looking for a romantic night to remember or a rose-induced lunch, wining and dining on the outside terrace at La Reserve will be one meal you'll never forget.
The restaurant is ran by a young chef called Sebastien Mahuet. According to the Michelin Guide when you enter La Reserve you "embark on refined gastronomic cruise, anchored for the Mediterranean."
Chevre d'Or, Eze
It's not just got one Michelin star, it's got two – with reason. Chevre d'Or in Eze creates spectacularly creative and unique dishes that always use only local, seasonal ingredients. As memorable is its food is Chevre d'Or's position – perched on the hillside leading up to the medieval village of Eze.
Eze itself has been described as being "perched like an eagle's nest on a narrow rocky peak overlooking the Mediterranean." Needless to say, the views diners take in on the terrace of Chevre d'Or are second to none.
La Voile, Saint Maxime
When pondering some of the best eateries on the Côte d'Azur, you are inevitably taken to the vicinity of Saint Tropez. Located on the shores of the Gulf of Saint Tropez at the feet of the stunning coastal village of Sainte Maxime, La Voile's outside terrace really is a sight for sore eyes.
Watch the elegant masts of the boats down below bobbling gently up and down in the water whilst your taste buds discover truly delectable cuisine. The seafood is particularly recommended at Saint Maxime, especially the legendary lobster.