03 Jun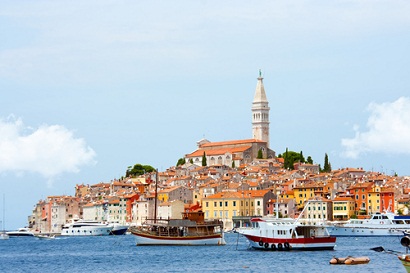 Rovinj and its relaxing qualities interrupted by the Croatian Summer Salsa Festival! With narrow cobbled streets winding towards quant and picturesque squares, a impressive cathedral and the highest tower in the whole of Istria standing at a mighty 61 metres high, the town of Rovinj in Istria has to be one of Croatia's most spectacular and interesting of towns.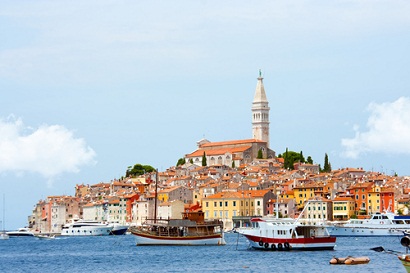 What was originally an island off mainland Croatia, approximately 250 years ago, the narrow channel that had separated it from the mainland was filled in, meaning Rovinj and Croatia's landmass were joined.
Roviji has many sites of interest, three of the biggest being the Church of St. Euphemia, the largest Baroque building in Istria, the Balbi Arch, which was built in 1680 when it stood as a grand entrance to Rovinj, and the Ulica Grisia, which is one of the main thoroughfares through the old part of Rovinj town.
Asides visiting the many ancient, impressive and inspiring buildings and sites that Rovinj has managed to maintain over the centuries, another pleasant diversion in this captivating town is to sit at the port in the morning, watching Rovinj slowly start its daily life such as watching the fishermen bringing in their daily catch, a pleasure that is even more enjoyable if you plan to eat such fresh and delicious seafood for lunch later on in one of Rovinj's superb seafood restaurants.
If such simple pleasures appeal to you then perhaps learning that one of Croatia's most hedonistic and lively events is held on Rovinj's streets each year, may shatter such images of simple tranquillity that have been built up in your mind.
However if your Croatian holiday venture comes with an urge to party to dawn you may be more excited to hear about the Croatian Summer Salsa Festival.
From 19 – 24th June 2012, the beautiful town of Rovinj will be holding the Croatian Summer Salsa Festival. This ginormous open-air summer Rovinj festival lasts for seven days and seven nights where only the city is the dance floor, and is one of the most lively and memorable events on the Croatian annual festival calendar.
2012 celebrates the Croatian Summer Salsa Festival's eighth year. This unique mix of sea, sun and salsa sees dancers and Latin and Cuban music lovers from all round the world flock to Rovinj's streets to experience a party like no other.
If partying until dawn to rhythmic Latin beats and spending leisurely days lazing next to the Med surrounded by scenery at its most beautiful sounds like a holiday not to be missed, then be sure to put 'Rovinj festival' in your calendar on the 19 – 24 June this year!