07 Jul
If you want to experience a touch of ancient Tuscany this summer then make your way to the spectacular city of Pistoia in Tuscany this July.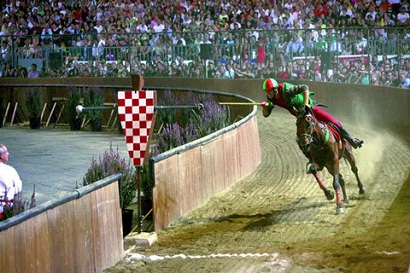 The Giostra dell' Orso – Joust of the Bear – is a modern version of an antique joist that was held in the town of Pistoia every 25th July during the first half of the 13th century. The tournament was part of the festivities in honour of Pistoia's patron saint, San Jacopo.
After this traditional tournament was suspended for approximately 30 years, it was brought back into Tuscan culture, in 1947 when it was renamed the Giostra dell' Orso.
Held in the Piazza del Duomo in Pistoia, the Giostra dell' Orso 2012 comprises of 12 cavaliers, who participate from the four different districts of the city in teams of three, each baring the symbol of either a deer, griffon, dragon or lion.  Each territorial team has its own captain and is represented by a flag, a trumpeter and a number of halberdiers.
This dramatic and highly atmospheric medieval event is opened by the cavaliers entering the square to the sound of drums and by the signal of the trumpeters. The cavaliers then take their positions in the archway of the Palazzo Comunale, where they listen to the herald's orders and rules of the joist.
This spectacular re-enactment then involves a nail-biting joist in the square where each of the horsemen tilt lances at a target held up by a large dummy of a bear.
The most skilled cavalier who manages to hit the target the most is honoured with the title "Cavaliere Sperone d'oro di Pistoia e contado" _ "The Cavalier of the Golden Spur of Pistoia".
When the tournament and honour is concluded a colourful parade of people dressed in stunning medieval dresses makes its way around the city – The Giostra dell' Orso 2012, an exciting, enthralling and intriguing touch of ancient Tuscan culture not to be missed.
Why not consider Tuscany as your holiday destination? Have a look at Vintage Travel's collection of Luxury villas in Tuscany.