02 Apr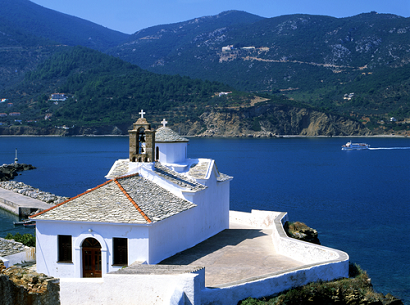 Soothingly Skopelos – the greenest island in the Aegean Sea. The water is like blue liquid crystal and the pine trees, which blanket the island, grow right down to the water's edge. Skopelos is the greenest island in the Aegean Sea, a magical island whereby as soon as you arrive, the rush and turmoil of everyday life is left far behind you.
At just over twelve miles long, Skopelos is far from being a big island. Legend has it that the island was ruled by Prince Stafilos, son of the King of the Minoans.
In 1936 a burial chamber was uncovered by archaeologists, a discovery that added some real weight to the legend. The remains were of a person who was obviously of a very high standing, who had been buried along with his sword that had a solid gold handle.
The legend continues that if the pirate Barbarossa – Red Beard – had known that there was a gold handed sword buried on Skopelos, he probably would have visited the island much sooner than he did. Barbarossa did in fact come to Skopelos in 1538 and is believed to have decimated the population.
He was a leading member of the Barbary pirates who took sanctuary on the North African coast and were a scourge on trade ships. Barbarossa was one of four tough, hard-hitting brothers who were born on the Greek island of Lesbos, which, for years, wreaked havoc on Greek waters.
The population on Skopelos in 1820 was said to be over 70,000, whereas in modern day peak tourist time 20,000 is rarely surpassed. Many opponents of the Turkish rulers sought refuge here and during the nineteenth century, the island was considered to be a resistance stronghold.
Skopelos undoubtedly has a rich and colourful past but it is tourism today which dominates the island.
With its blue liquid crystal water gently lapping over the pine trees that extend to the water's edge, it is easy to understand why holidaymakers from all over the world decide to come here, to laze away on the beautiful beaches in a way that made the decadent visitors from Rome, many centuries earlier, look like a working party!