24 Aug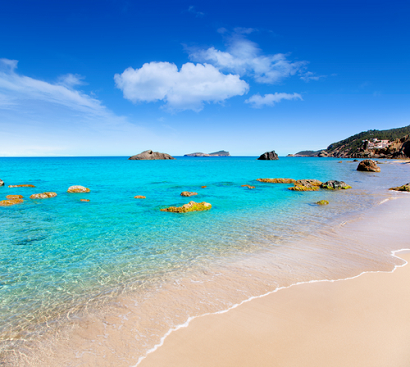 A British expatriate and author who'd been living in Spain for the best part of 20 years once said, if you want to experience the best places in Spain for the best prices, avoid going where the foreigners go and head to where the Spanish go.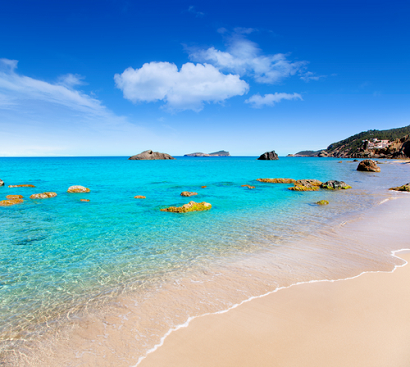 These words of wisdom can certainly be applied when it comes in eating and drinking out in Spain, based of course on the assumption that the locals know where the best food and drink is served at the most reasonable prices. But can the same be said about beaches?
Whilst Ibiza is blessed with a periphery of stunning beaches, each one as dissimilar and interesting as the next, throughout its long, hot summers, the beaches of this popular holiday destination can get extremely busy. If joining hundreds of other tourists, making friends, socialising and having fun, sounds appealing, then on Ibiza, you certainly won't be disappointed.
If, however, heading to a more tranquil spot away from the tourist trap sounds preferable, then make your way to the south end of Ibiza's Agua Blanca, which is a real contender for Ibiza's best beach.
Whilst in peak times the north end of this beautiful beach is full of European holidaymakers, families and young couples, the south end attracts a notably quieter gathering of nudists.
On Agua Blanca's southern side, tranquil-seeking nudists can enjoy the peace and serenity being well away from the dominate tourist ensnare. For maximum tanning time ensure that you arrive at this idyllic spot early as in the late afternoon and early evening the sun starts to sink behind the cliffs, casting long, dramatic shadows over the sand.
One popular activity at this lesser known end of one of Ibiza's most visited beaches is diving off the huge rock that protrudes out of the sea, a short distance from the shore.
It may take some courage to join this serene nudist spot, but you can rest assure that if you do manage to muster up the courage, its well worth the effort.
You might be interested in viewing Vintage Travel's collection of luxury villas in Ibiza.