13 Jul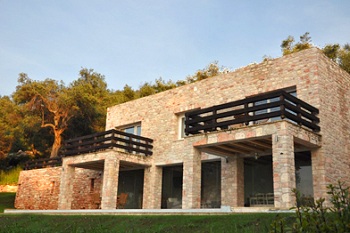 Akrothalassa is the latest addition to our Corfu portfolio and boy are we proud to have it 'on the books'. The name is literally translated as 'on the water's edge' – probably something to do with its incredibly unique pool design, which literally sits around the property. It has 2 bedrooms and sleeps 4.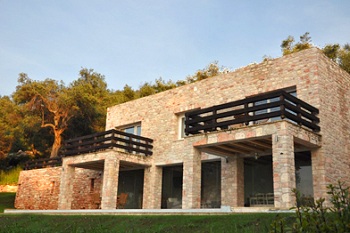 The location itself (Agios Spiridonas) is like no other on the island, a tucked away paradise with far reaching views over the sparkling Ionian Sea. It is in fact nestled amongst dense, lush forests and burgeoning olive groves, which is calling out for exploring.
The house is probably what you'd term as an architect's dream (or certainly someone who values good design) thanks to its classic features combined with contemporary shape.
The villa is equipped with everything you could ask for including luxury furniture (inside and out), elegant chandeliers, comfy soft furnishings, a bar, a grand BBQ and some beautiful pastel colours.
The sea is just a stones throw away, the mini market and 2 fantastic tavernas are less than 300m away, the beach is 1km away and Corfu town is around 30 mins drive.