20 Feb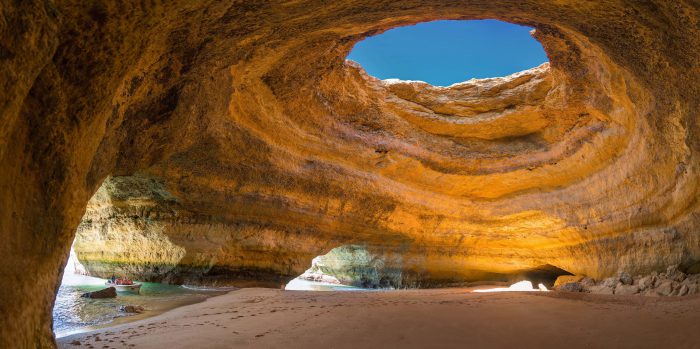 A visit to the small fishing village of Benagil in the Algarve promises to be a memorable and fun day out for all the family. This pretty, coastal village is nestled between the popular tourist towns of Praia do Carvoeiro and Armação de Pêra.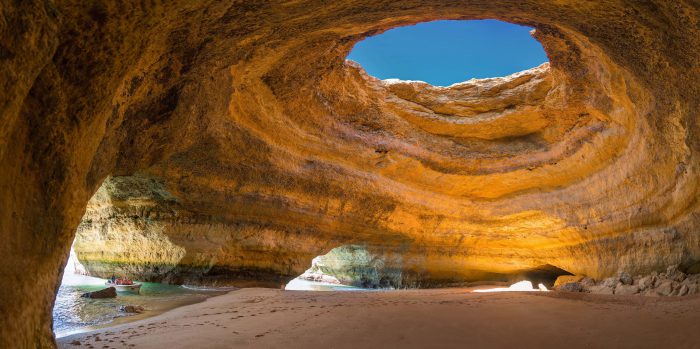 If you're thinking about heading to the picturesque fishing village of Benagil, here's three reasons why you won't be disappointed!
Visit the Benagil Cave
Benagil Cave, known locally as Algar de Benagil, is one of the most famous caves in the Algarve. This remarkable cave lies adjacent to Benagil Beach and can only be accessed via the sea. Boat trips go regularly to the cave in the tourist season and take you to this stunning cave, which is entered through two arches. Inside the cave is a small, magical beach.
Benagil Cave has been described as one of the ten coolest caves in the world and augmenting its unique charm is an opening in the ceiling that provides light inside the cave and views of the spectacular blue sky overhead. This distinct opening on the ceiling is known as 'the eye.'
Spend the day on Benagil Beach
The golden sands of Benagil Beach, flanked by impressive limestone cliff faces and lapped by turquoise water, is the perfect place to lay your towel out for the day and relax.
Unlike other beaches on the Algarve, Benagil Beach tends to remain a bit quieter, partly due to the lack of parking at the beach.
The cliffs that back the beach is a sight to behold, boasting an array of beautiful tones of reds, oranges and yellows and comprising of a myriad of shapes including arches, grottoes and pinnacles, carved from the eroding sea over thousands of years.
Enjoy a leisurely lunch in a Benagil restaurant
Of course, visiting world-renowned caves and spending time relaxing on a beautiful beach is hungry and thirsty work!
Fortunately, Benagil is home to several quality restaurants which line the road that lead up and down the valley – the perfect spot to tuck into authentic Algarve cuisine, washed down with an ice-cold beer or some quality Portuguese wine.