13 Dec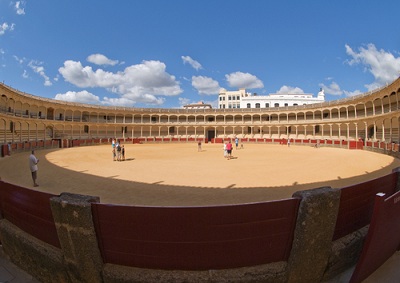 One feature really stands out when visiting the historical Spanish town of Ronda – its dedication and enthusiasm towards bullfighting. With miniature china matadors, postcards boasting pictures of every aspect of bullfighting you could care to imagine, and bull emblazoned tee-shirts hung outside almost every shop, it is hard to imagine that the banning of this age-old Spanish tradition has recently been under dispute.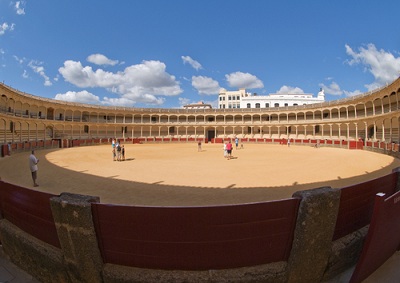 Ronda is the birthplace of modern bullfighting, a historical feat, which the town, with its devotion to the pastime, is obviously extremely proud of. Despite its relatively small size, in the early 21st century, Ronda overtook Cordoba in being Andalucia's top three tourist locations, behind only Granada and Sevilla.
With its dramatic panoramic views of the Sierra de Ronda mountains, the yawning yet beautiful El Tajo gorge and the eighteenth century 'Puente Nuevo' – New Bridge' – that bestrides 100 meter abysses below, it is easy to gauge why Ronda became one of Andalucia's 'top three' tourist destinations.
Ronda's blatant natural beauty, momentous history and commitment to keeping one of Spain's most archetypal traditions alive, means the town remains a tourist hotspot. In the summer months, Ronda's attractive streets are brimming with people of all nationalities, giving the town a unique blend of tradition and sophistication.
In the winter, whilst Ronda is not overwhelmed by a consistent whirr of new arrivals, it remains a lively and vibrant town, with its warm and friendly atmosphere never ceasing. Although climatically, Ronda's winters can be extremely cold. Whilst it is located just 100 kilometres from Malaga and the Costa del Sol, Ronda is situated at almost 2,500 feet and all roads to the ancient Spanish town twist, traverse and ascend, taking enthusiastic travellers through the beautiful but bitterly cold Sierras de las Nieves – Sierras of the Snow.
If you are planning on heading to the province of Malaga, regardless of the time of year, a visit to the fascinating town of Ronda is imperative. Although with a significantly less number of people sightseeing its many marvels, winter is perhaps a preferable time to visit Ronda. That's if the Sierra de las Nieves permit it!