10 Aug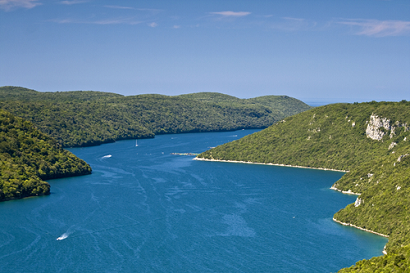 The Lim Fjord – A heavenly way to be acquainted with Istrian nature and one of the most beautiful things to see in Istria.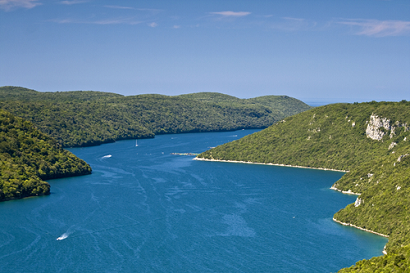 The Lim Fjord located on the western coast of Istria is a truly beautiful natural phenomenon. Technically this stunning piece of nature isn't actually a fiord, as it would need to be carved out by glacial action to give the word a true and accurate definition of the word. In this part of Istria however, it is known as the Lim Fjord or the Lim Canal and it is extremely beautiful whatever name is given to it!
Steep cliffs line the sides of the fiord making rock climbing the natural sport of choice. The fijord is heavily vegetated with pine trees dominating one side and deciduous trees the other side. The vivid lush green makes a stark contrast with the blue water and the grey limestone.
The 1960s film "The Vikings" was filmed here and you may well remember Kirk Douglas showing off to his tribe by dancing along the oars of a Viking long ship with his warriors as they returned from bloody skirmishes abroad. No doubt the water here in Istria was much warmer for the Hollywood stars than it would have been in Norway. Nonetheless, the fjord was convincingly Scandinavian in the movie and nobody watching would have guessed that it was filmed a thousand miles away from Viking territory!
The Lim Fjord sits 20 minutes drive away from the town of Rovinj and it has been suggested more than once that you shouldn't see one without seeing the other. The Lim Fjord is a protected area, which means no fishing, diving or fast motorboats. The more tranquil sports are allowed such as kayaking and swimming. It is possible to hire a kayak and paddle off on a mini expedition to a pirate cave where you can enjoy a fish picnic with a glass of wine. There are other excursions available on boats, which will take you up this wonderful "fjord", providing you with a fish picnic and wine for lunch – sounds heavenly.