Things to do in Umag, Istria
Umag is the first city you will come to in Istria when approaching from the West. The surrounding vicinity is one of beautiful hillsides with old fortifications that provide stunning views across the countryside, and an insight into the area's history. Umag itself has walls with a gated drawbridge, dating right back to the 10th century.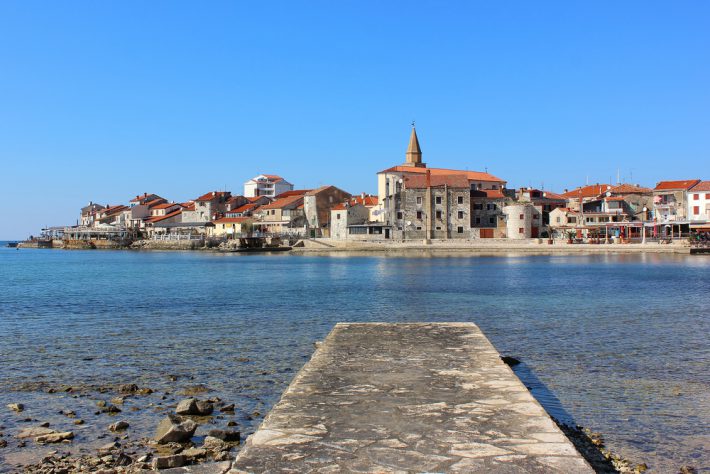 It also has a magnificent church from the 16th century, with an incredible interior ceiling covered in oil paintings. The town's museum contains exhibits from Umag's past, including ancient pottery and traditional crafts.
Umag's waterfront has plenty of bistros and bars where you can watch the local comings and goings, whilst enjoying a beer or coffee and cake. There are also pizza restaurants and ice cream parlours. The main street is not short of souvenir shops, which display art and crafts, including pottery, paintings, and wooden sculptures.
Umag puts on plenty of open air events, and continues to provide entertainment the whole year around.
Not far from the town is the oldest lighthouse on the Adriatic, which is well worth a visit. For the more energetic holiday maker there are great bike trails, or you can visit the subaquatic dive centre and be kitted out to descend 29 meters, to view the HMS Coriolanus that rests on the sea bed.
There are glass bottomed boats for those who don't want to get wet. It is also possible to take boat excursions to nearby beaches, or even take a fast hovercraft all the way to Venice for the day. One of the best ways to explore the town is by bike which can be hired from within the city.
There are also facilities for having a massage, pedicure, and even a fish spa if you fancy having your feet nibbled clean of dead skin.
Yes, it's safe to say there is plenty to do for everyone in Istria's wonderful city of Umag.