03 Sep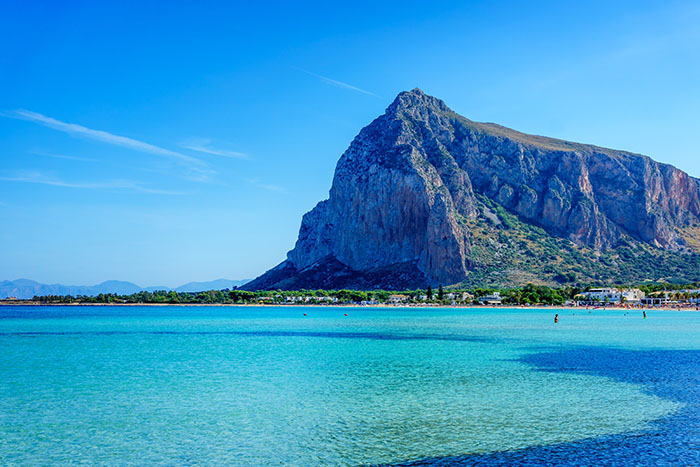 Sicily sits at the tip of Italy. This fascinating island has a long history of trade with the world, which has affected almost everything about it, from its cuisine to its architecture. When you visit Sicily, you can explore characterful small towns and enjoy a temperate climate, which stretches from early in the year until late autumn.
This popular Italian island offers many untouched natural wonders, including Mount Etna, the iconic active volcano and a selection of gorgeous beaches, perfect for that relaxed holiday you've been looking forward to.
Here are three of Sicily's finest beaches.
San Vito lo Capo
To the north-west of Sicily, the town of San Vito lo Capo can be found, famous for a breath-taking bay framed by dramatic mountains. Across a three-kilometre stretch, sunseekers lounge on the golden sand and swim in its remarkably warm and shallow water.
San Vito lo Capo's dominant feature is an impressive lighthouse, and the surroundings make for a very special beach experience. This the unspoilt cove can be reached through the historic town, lined with classical Mediterranean architecture.
Sampieri
Along the southern coast of Sicily, there are many unexplored bays and beaches that provide idyllic spots for unwinding and soaking up the Sicily's beautiful scenery. Sampieri, in the region of Montalbano, is one such beach, with open sands and clear blue waters are surrounded by dense pines.
If you want to relax in peace, there's no better destination than Sampieri. This exquisite beach has even been named one of the most beautiful beaches in Italy.
Calamosche
It's rare to find such a protected and preserved beach, but on the south-east coast of Sicily, you'll find Calamosche, located within the Vendicari nature reserve. The rocky outcrops that reach around either side of this bay provide shelter and perfectly still and clear waters. The beach itself is long and shallow, gradually leading to the sea.
From here you can explore the host of wildlife in nearby caves and rock pools, or simply enjoy the spectacular view. There is also a particularly good beachside restaurant serving fresh food and cold drinks.