31 Dec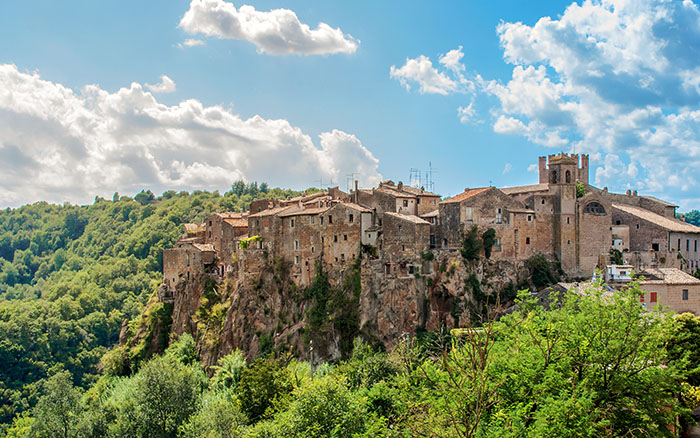 Lazio, located in the central peninsular of Italy, is defined predominantly by rolling emerald hills and jagged mountain peaks. Amongst the hills and mountains are pockets of lakes, many of which comprise of a fascinating legend. This scenically-stunning part of Italy is also blessed with beautiful, traditional towns dotted across the landscape.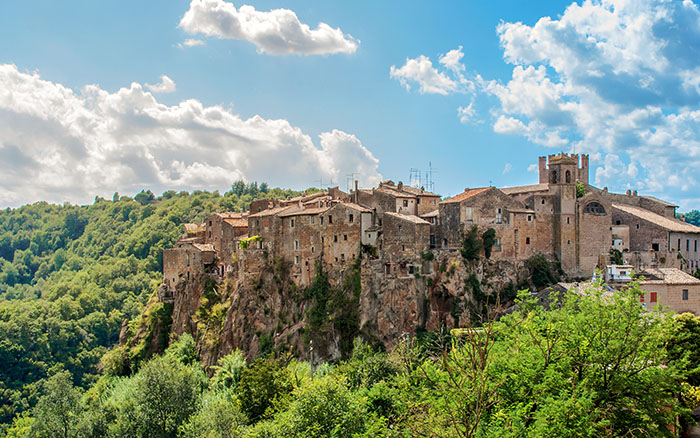 For a slice of authentic Italy where traditional culture prevails, and time stands still, visit these three beautiful towns of Lazio.
Calcata
Calacta is a picturesque town in the Province of Viterbo, 47km to the north of Rome. This hilltop town overlooks the flourishing valley of the Treja River. This medieval town was constructed on the crags for defence purposes in the Middle Ages. More recently, Calcata has redefined itself as a popular hub for artists.
Nestled within the regional park of Parco Regionale Valle del Treja, this elevated ancient town boast incredible views of the wooded territory below and is a great starting point for many a memorable walk in this exceptionally pretty corner of central Italy.
Rieti
If you're looking for some historical inspiration during your visit to Lazio then head to the beautiful ancient town of Rieti, the capital of the Rieti Province, which lies on the slopes of the Reatini and Sabini Mountains.
The town has been a centre of civilisation for tribes for centuries, dating back many millennia before the Romans. Rieti is brimming with fascinating historical sites, which provide clues of what life was like here for ancient civilisations. One such site is the Palazzo Comunale, a 13th century palace which houses the Civic Museum. One of the town's main squares, the Piazza Vittorio Emanuele, is lined with shops, cafes and restaurants and possesses a real welcoming, laid-back atmosphere.
Bracciano
Bracciono is a pretty Lazio town, situated 30km to the north-west of Rome. The town is most famous for its imposing castle known as the Castello Orsini-Odescalchi. This striking castle, which dates to the 15th century, is located on the banks of the nearby lake of Lago de Bracciano, which is particularly popular amongst sailors.