25 Jul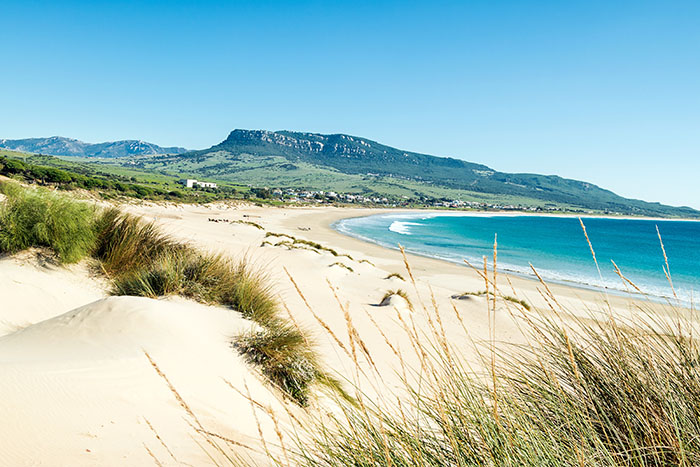 It's not difficult to find a beautiful beach on southern Spain's alluring stretch of coastline known as the Costa de la Luz – Coast of Light. Vast expanses of sand stretch along the coast, lapped by the waves of the mighty Atlantic Ocean and basking under cloudless blue skies.
If you're heading to the Costa de la Luz and are looking for idyllic spots to lay out your towel and relax for the day, here's three fabulous beaches you may want to head to.
El Palmar
El Palmar Beach was given the accolade of being one of the best beaches of the Costa de la Luz by The Telegraph. Dunes and foliage back this long stretch of golden sand, which extends for about two and half miles in length.
This windswept beach is a favourite spot for surfers and is, in fact, known as the surf capital of Andalucía. Lined by a succession of laidback and friendly bars, El Palmar boasts a bustling scene, particularly during the summer months.
El Palmar is located 5km to the north of Vejer.
Bolonia Beach
Bolonia Beach is rated as one of the best beaches in Spain, let alone on the Costa de la Luz! Soft white sand is backed by eye-catching sand dunes, including the famous Dune of Bolonia Natural Monument, which is an incredible 30-metres high and 200-metres wide.
The beautiful Bolonia Beach can be found on the Cádiz coast, not far from the Roman ruins of Baelo Claudia, an ancient Roman town, which, due to its strategic position on the coast near the Strait of Gibraltar, was once a vital trade route serving Europe and North Africa.
Los Lances
Los Lances beach in Tarifa is a staggering 23,786-feet long, stretching from the Punta de Tarifa to the Punta de la Peña. This huge beach is essentially made up of two areas, Los Lances Norte, which is more urbanised and Los Lances Sur to the south, which is close to Tarifa.
The beach boasts soft golden sand, which is lapped by translucent water. Being a windy beach, Los Lances is a popular spot for windsurfers and other thrilling water sports.