08 Sep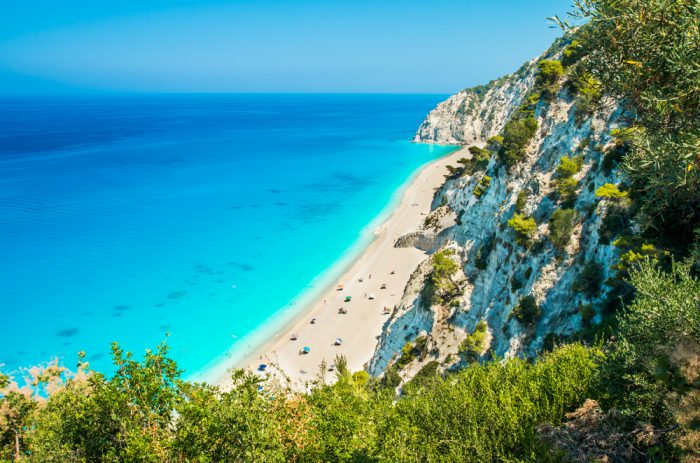 Described as the "Caribbean of Greece", the island of Lefkada is blessed with beautiful beaches, where soft, golden sand is lapped by the exotic blue waters of the Mediterranean Sea. From sheltered coves, perfect for families to spend the day relaxing and having fun, to more exposed stretches of coast, renowned for their perfect windsurfing conditions, there's a beach for everyone on Lefkada.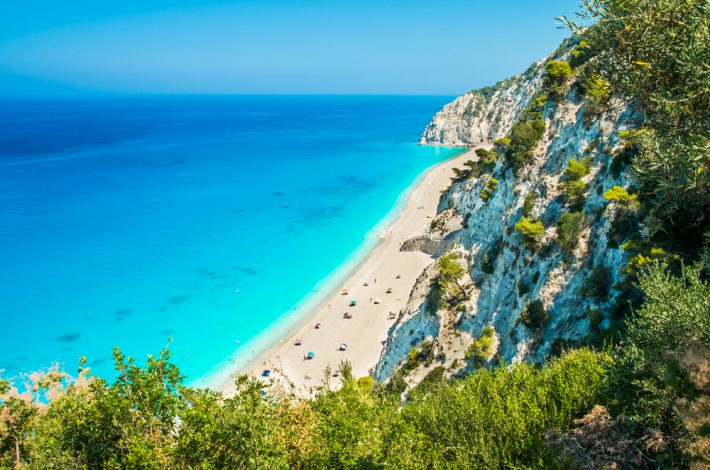 If you're heading to this stunningly beautiful Greek island sometime soon and want to know what the best beaches are to head to, here's three fabulous beaches on Lefkada that simply aren't to be missed.
Egremni Beach
Egremni is considered one of the most impressive beaches on Lefkada. This extensive stretch of pebbles is located 40 kilometres to the south-west of Lefkada Town. There is a carpark above the beach and visitors are required to climb down approximately 350 steps to reach the pebbles below.
A small taverna on the beach provides chilled drinks and refreshments. The water that kisses the pebbles here is so incredibly blue that Egremni Beach is crying out to the visited, despite the long climb back up the cliff face!
Porto Katsiki Beach
Another gem of a beach on this beautiful Greek island is Port Katsiki, which is situated to the south-west of Lefkada.
Another postcard-perfect beach, dazzling white sand lies at the foot of a lofty white rock, giving Porto Katsiki its truly unique identity. In fact, so beautiful is this coastal spot, Porto Katsiki has been awarded with the 'loveliest beach in Greece' award.
Like Egremni Beach, you need to descend a steep path with around 100 steps from the carpark to reach Porto Katsiki. Alternatively, this idyllic beach can be reached by boat trips from Vassiliki and Nydri.
Aghios Nikitas Beach
Aghio Nikitas is a relatively small beach, located to the front of the quaint fishing village of Agios Nikitas. This pretty, pebbled spot is a popular place for families to lay down their towels for the day. Cafes and tavernas on the beach provide welcome drinks and snacks. Agios Nikitas is 13 kilometres to the south-west of Lefkada Town to the western side of the island.