25 Mar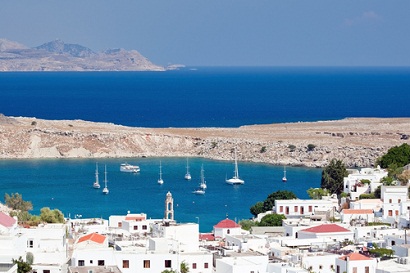 From excursions to Turkey to day-long cruises along the coastline discovering some of the most beautiful and secluded bays you may have ever seen, the island of Rhodes provides its visitors with a plethora of boat trips, cruises and ferry excursions.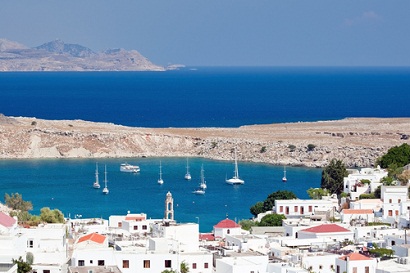 If discovering the waters that surround the island where the Aegean Sea meets the Mediterranean Ocean, sounds appealing then read on, and take a look at three great boat trips in Rhodes.
Boat trips in Rhodes – Bay of Anthony Quinn
Originally named Vagies Bay, this stunning small bay has been known as the Bay of Anthony Quinn since the actor was filmed here for the Guns of Navarone in 1961. Visitors to the bay disembark their boat via a small jetty protruding past the swimmers.
Asides from relaxing and sunbathing on the beach, exploring the rocky cliffs and crevices that surround the cove and swimming in the transparent waters, visitors can be refreshed at the bay's small taverna, with a delicious Greek feta salad and a shot of ouzo, or two!
Boat trips in Rhodes – Lindos
This one-day cruise takes guests from Rhodes Town to the ancient archaeological site of Lindos. This picturesque village, with its Acropolis towering above, never fails to capture the hearts of all who visit it.
Guests spend approximately 3 – 4 hours at this mesmerising Greek village exploring the ancient Acropolis or relaxing on the golden sands. The return journey includes a stop at the Tsampica Beach for a refreshing dip in the deep azure waters.
Boat trips in Rhodes – Marmaris
Spend a two-hour sail aboard a hydro or Catamaran boat sipping ice-cold beverages while taking in the marine marvels of the ocean until you arrive at the lively Turkish market town of Marmaris, where you will spend six hours musing among the hustle and bustle of this colourful town, which is plentiful of good restaurants, serving delectably fresh seafood.
With its pretty coastline, friendly locals, delicious food and wine, and a bustling market where haggling for a price is almost imperative, taking a boat trip from Rhodes to Marmaris provides an unforgettable day out.