17 May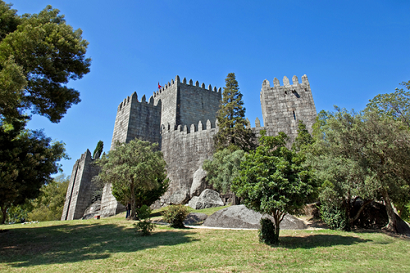 With rolling verdure valleys, a network of fast-flowing rivers, hillsides carpeted in forests and a coastline of long, windswept beaches, it is easy to understand why Minho is regularly cited as being the most beautiful part of Portugal.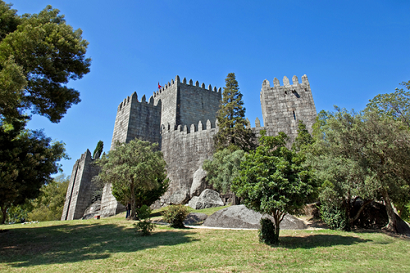 Asides its blatant beauty, this distinct province which lies to the north of Porto, clings on to age-old customs. Wooden carts being dragged along by donkeys down twisting cobbled lanes is just one of the many formidable snips of the past Minho keenly retains.
Bordered by the River Minho in the north and the River Douro in the south, this traditional province is one of the greenest regions in the whole of Portugal. Yes, it's safe to say that Minho is Portugal's best-kept secret. If you have the pleasure of visiting Minho, take a look at three 'must see' places that are crying out to be discovered, explored and photographed.
Guimaraes
Guimaraes was Portugal's first capital. It was also the birthplace of Portugal's first king, Dom Afonso Henriques in 1110. The town boasts many impressive medieval monuments, such as its fairy-tale castle. Its ancient architecture and sites provide a ubiquitous reminder of Guimaraes' motto  "Portugal nasceu aqui" – "Portugal was born here". Its labyrinth of  narrow cobbled streets and tangible sense of history has justifiably earned Guimaraes its UNESCO  World Heritage status.
For those seeking lively nights and shopping-filled days on top of all the culture and history, Guimaraes' university means the town attracts a younger crowd, and lively bars, atmospheric cafés and 'cool' boutiques are plentiful.
Ponte de Lima
This beautifully preserved medieval village of whitewashed houses decorated with 'Manueline' ropework is another sight to behold in Minho. This laid-back market town lies on the south bank of the Lima River facing a splendid Roman bridge with incredibly low arches.
The villages' quaint old streets are lined with elegant buildings. One of the most eminent is the Palacio dos Marqueses, a 15th century fortress palace which is now used as Ponte de Lima's town hall. One of the most pleasurable experiences of this lovely town has to be enjoying a drink outside one of the main square's many bars and cafés, watching the bustle of life in Ponte de Lima unfold. Though it has to be said that apart from on market day, life remains extremely relaxed in this delightful old Minho town.
Viana do Castelo
Known as the "jewel of the Costa Verde", Viana do Castelo has a double attraction – beautiful beaches outside of the city and an enchanting medieval centre. This compelling city is made up of 19th century boulevards, lined with the gnarled trunks and boughs of ancient-looking trees, rococo palaces and Manueline manors.
Lay beside the Rio Lima estuary means that swimming, sunbathing, water activities and having fun on the beach is just a quick hop from this vibrant and aesthetically-idyllic town.