19 Aug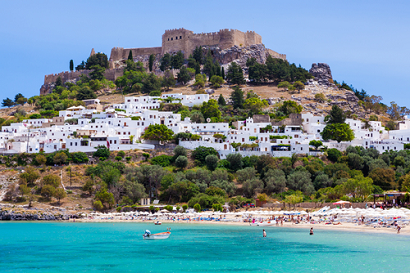 Rhodes, the capital of the Dodecanese, brimming culture, nightlife and relaxation in equal measures, is an experience for all who step foot on it. It is this emerald island's blend of traditional and cosmopolitan which makes it thoroughly unique and appealing to a broad range of travellers.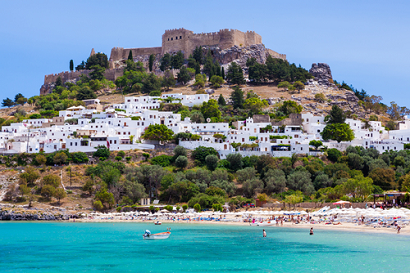 In short, on the island of Rhodes you'll experience things you won't experience elsewhere.
Take a look at three things to do on Rhodes that you can't do anywhere else.
Wine and dine in Mavrikos
Restaurant Mavrikos was founded in 1933 by Grandpa Mavrikos and has long been considered as Rhodes' most exquisite diner. Chefs Dimitris and Mihalis blend traditional Greek cuisine with some avant-garde innovation, the net result being dishes such as lamb's liver chunks with chilli and pork belly with grape molasses at your disposal.
Located in the town of Lindos, locals and visitors alike head to this elegant, arched restaurant, which is well known for serving some of the best food on the island.
A stroll down the cobblestone of the Street of the Knights
In 1988 the medieval city of Rhodes was listed a UNESCO World Heritage Site. Within Rhodes' Old Town lies the cobblestoned Street of Knights, one of the best preserved medieval streets in Europe. This ancient street has an unrivalled atmosphere, enhanced somewhat by the medieval inns that in bygone eras provided a bed and entertainment to the soldiers of the Order of the Knights.
At the far end of the street lies the Museum Square, home of the Hospital of the Knights which is now Rhodes' Archaeological Museum.
You could be forgiven for spending more time than you'd perceived meandering round the ancient marvels and clusters of boutiques, cafes and bars that eventually lead down to the harbour – an experience you won't find anywhere else.
Windsurfing in Prassonisi
The point where the Mediterranean is spilt from the Aegean provides perfect windsurfing conditions. Testament of the ideal windsurfing conditions on Rhodes' most southerly cape is the Prassonisi Windsurfing School. Here you can get to grips with windsurfing in one of the most exhilarating locations in Europe in this friendly, professional school.
If it's white-knuckle waves you're after, this point where two seas meet, certainly won't disappoint – an experience like no other.