16 Aug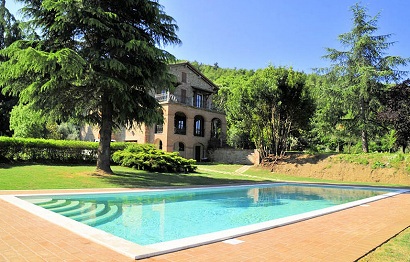 For many, the cuisine in Umbria is the best in Italy. From its famous black truffles, to its legendary olive oil, food does not get much better than in Umbria.
Born from 'cucina povera' – poor peasant cooking – chefs in Umbria always rely on fresh seasonal ingredients cooked simply yet to a very high standard. Naturally, with such a huge and serious devotion to cooking in Umbria, the region is littered with top-quality restaurants, all serving delicious Umbrian cuisine.
We take a look at three top restaurants in Umbria…
Osteria dell'Enoteca, Spoleto
With a curved iron staircase, dark wooden benches lay under a high stone ceiling surrounded by row upon row of bottles of local wine, this 12th-century tavern certainly looks the part, but does its cuisine live up to its façade?
In a word, yes. With the food – all of which is typical of the area, such as truffle omelettes and 'shoelace' pasta – wine, the service, ambience and prices being described as 'terrific', a trip to Osteria dell'Enoteca in the town of Spoleto has to be on your culinary agenda during your stay in Umbria.
II Gufo, Perugia
Situated in the heart of the city of Perugia, this top quality restaurant never fails to be at the hub of the region's vibrant restaurant scene. The owner always buys the ingredients from the local markets so that the dishes are always brimming with freshness and flavour. From cinghiale' (wild boar), to 'riso negro' (black rice), the comprehensive menu at the II Gufo caters for a range of tastes. Prices are more than acceptable and so is the service, making II Gufo a firm favourite amongst the diners of Perugia.
Trattoria II Cortile, Macerata
A visit to the Umbrian town of Macerata would not be complete without dropping in at Trattoria II Cortile and experience home cooking like you have never experienced it before. All dishes are lovingly prepared by the restaurant's boisterous yet friendly family and are followed by a delicious selection of homemade cakes – You will never walk out of Trattoria II Cortile not feeling full!
One of the top villas would have to be Villa Magnolia (pictured), a 4 bedroom villa in Lake Trasimeno, which would be a fine base for taking full advantage of Umbria's top restaurants.