Three top sights of Istria's Poreč
Poreč, on the west coast of Istria, is a popular tourist destination which has managed to retain much of its traditional charm. This bustling town has a great balance of nightlife, family activities, water sports and beaches, but if you wish to sample cultural Poreč then these three sites are a must to visit.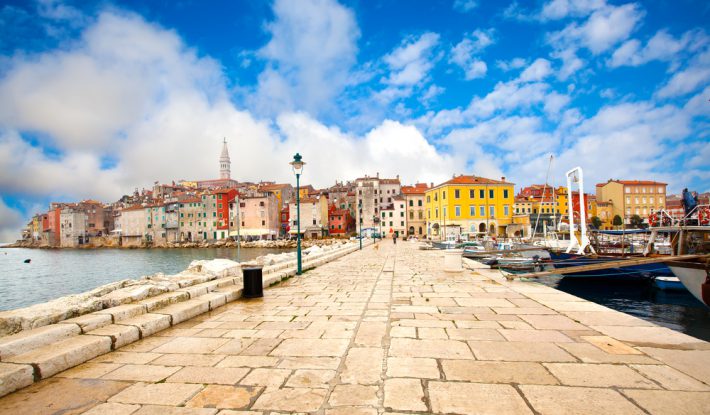 Poreč Old Town
Poreč Old Town is situated on a peninsula. The town clings onto its ancient Roman past, the streets are symmetrical, running east-west and north-south, with a main square at its hub. Take time to explore this ancient town and discover Neptune's temple and several Romanesque and Gothic buildings, including Zuccatto Palace and the House of Two Saints.
Euphrasian Basilica
The Euphrasian Basilica was constructed in the 4th century and is now protected as a UNESCO's World Heritage Site. This Byzantine architecture includes an episcopal complex, which not only has a basilica, but also a sacristy, a baptistery and an impressive bell tower. The original shape from the 6th century with elements from the earlier periods, such as a famous mosaic floor, can all be viewed in this ancient Basilica.
Baredine Cave
The Baredine Cave is described as a "geomorphologic monument of nature". The cave of stalagmites and stalactites treasures, is situated six kilometres to the north-east of Poreč. A guided tour of the cave lasts about 40 minutes. The underground path goes through five chambers and descends 60 metres until it reaches an underground lake. At one point the cave is 132 metres below the ground. Its internal temperature stays at 14°C all year around. Outside the cave there is parking, a bar serving food, a playground to entertain the children, and various exhibitions.
If you visit Poreč during the second week in August you can experience the pageantry of the Giostra, where the town returns to the 18th century. In June Poreč celebrates the start of the summer season with concerts, food, wine and a tremendous atmosphere.