03 Dec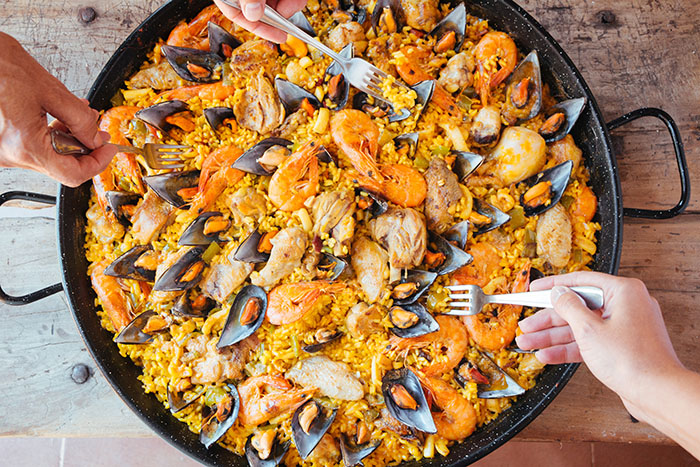 You don't have to spend too long in Spain before you come across the staple national dish in one form or another. Paella is served in virtually every restaurant. It's often cooked in huge paella pans on the beach or as a ubiquitous feature at a fiesta. Small portions of paella are accompanied with ice-cold cerveza as popular tapas in traditional bars.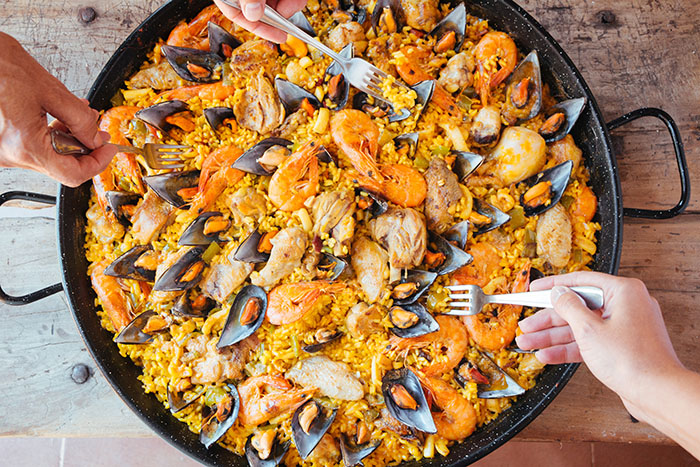 If you're determined to make this colourful rice dish like the Spanish, so you can enjoy a taste of Spain when you return home from your holiday in this gastronomically-distinct nation, take a look at the following tips for making an authentic paella, Spanish style!
Think about the rice
It's important to use the right rice when making paella, otherwise it will lose its authenticity. A short grain rice works best such as bomba. Another tip is to toast the rice in a trying pan in olive oil and tomato before adding the stock.
Stir in the saffron
What makes paella so distinct and unique is its beautiful rich colour and flavour. The rice needs to be vibrant golden colour, tinted by saffron, which can be added to the stock.
When adding the stock to the rice, ensure that it is hot and keep the saucepan on a low heat. A sofrito base is key to a great paella, which is made up of onion, olive oil, tomato, sweet paprika and garlic.
Get the pan right
While paella can be made in a conventional saucepan, using a paella pan which typically has wider base area and is round and shallow, will add to the authenticity of the dish. Known as a 'paellera', these special paella pans ensure the rice cooks in a thin layer. According to the people of Valencia, where paella is believed to have originated, the cooked rice in a paella should not be any thicker than 'un ditet', the width of a finger.
Meat or seafood?
The beauty of paella is there are little 'rules' in what you decide to throw into the rice. The original 'Paella Valencia' is made from rabbit, chicken and sometimes snails or duck. 'Paella de Marisco' is a seafood version of the dish, where prawns, muscles and squid are typically infused amongst the rice and sofrito.
'Paella Mixa' is one of the most popular paella dishes, which comprises of a flavoursome mix of seafood, meat and chorizo, for a true taste of traditional Spain.
To make your paella that bit more authentic, serve it with fresh, crusty bread and wash it down with some delicious Spanish vino.