21 Jul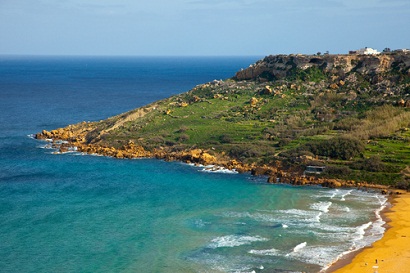 The island of Malta is surrounded by a parameter of beautiful sandy beaches that are perfect for swimming, sunbathing, snorkelling and taking the children.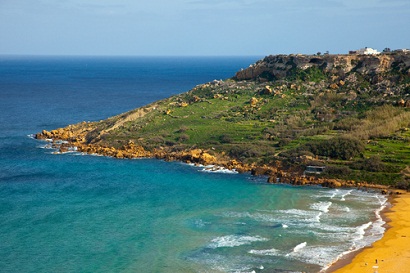 With such a fine choice of beaches on offer providing the very best of what we love about a beach holiday, knowing which one to head to for a day in the sun can be a difficult decision.
If you are spending your holiday in Malta this summer then read on because we have located the island's top three beaches in malta to cater for diverging tastes and desires.
Ghajn Tuffieha, Golden Bay
With its fine sand, rural and tranquil atmosphere and sensational sunsets, it is understandable why this picturesque cove is called Ghajn Tuffieha, which means "Apple's Eye". This beautiful stretch of beach is located next to Golden Bay and can only be reached by climbing 180 steps. The beach is particularly popular with younger couples and those seeking a more tranquil and secluded day at the beach in the most breath-taking of surroundings.
Ghadira Bay, Mellieha
In complete contrast to Ghajn Tuffieha, Ghadira Bay in Mellieha is easily accessed and is Malta's largest sandy beach. Having been described as being "one of the best beaches in the whole of the Mediterranean", Ghadira Bay certainly lives up to its reputation and is an exceedingly popular beach, particularly at the weekends. The facilities at Ghadira Bay can only be described as being 'excellent', with snack bars, cafes, sun beds and a comprehensive choice of water sports tastefully scattered across the beach. Due to its easy access and great facilities, Ghadira Bay is a fantastic beach for all the family.
Paradise Bay
For fervent snorkelers and diving enthusiasts a trip to Paradise Bay is imperative. Although, as its name suggests, this beautiful beach is a picture of perfection and is well worth a trip even if your day at the beach is not snorkelling motivated. Located in Northern Malta close to the town of Cirkewwa, the secluded bay is a haven for divers and consequently there is a diving school there which is open all year round.
Given its seclusion and emphasis on snorkelling, Paradise Bay mostly attracts a younger crowd and is notorious for its beach parties.