03 Mar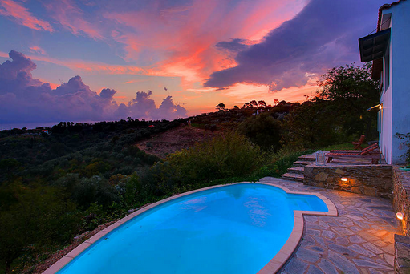 Tzaneria Tree, Skopelos – Where Vintage Travel and the Sunday Times have something in common! When the Sunday Times considers a villa to be worthy of appearing on its "50 sensational villas" in Europe list, you know that the villa in question has to be a little bit special, even if you don't particularly like the paper!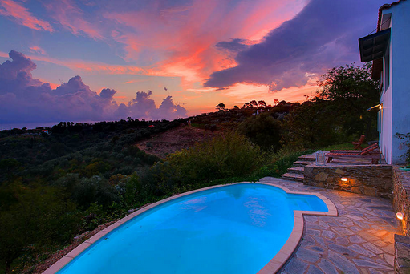 Number 37 on the 50 finest properties for couples, kids or mates, which was published in January this year, is Vintage Travel's very own Tzanerla Tree, on the island of Skopelos.
"The style is simple, the view majestic. Found on a narrow country road, Tzaneria Tree is a secluded property that looks across the island's steep hills and olive groves to the sea."
If this description of Villa Tzaneria Tree whets your roving appetite, then let us whet it some more because this villa and the area it abounds really is an experience just waiting to be uncovered.
This one bedroom, one bathroom villa can sleep two people and if any property deserves to be called a 'romantic retreat', then it's Tzaneria Tree.
Similar to many of Vintage Travel's villas, Tzaneria Tree is surrounded by the most sensational of scenery. Orchids, forests, hills and opaque vegetation jumble and wind to the transparent ocean that beckons onlookers to reach its secluded shores and bathe in water so clear that it looks as it may possess therapeutic qualities.
With views this enchanting and weather you can generally rely on as being nothing but great, there is a justifiable emphasis on outdoor living at Tzaneria Tree, with even the villa's name baring resemblance to nature, meaning 'greengage tree' in Greek!
Pleasantly in-keeping hallowed steps lead down to a much-needed shaded barbecue patio to the front of the property, which provides a refreshing shadow to wine, dine and relax out of the blazing sun. Of course, for additional refreshment a dip in the villa's private pool is equally as inviting.
Internally the focus on presenting nature at its most stunning to guests continues with a huge picture window offering inspirational views dominating the living area.
As the Sunday Times described, the style of Tzaneria Tree is simple, and no other style other than rustic would be appropriate for such a 'compliant with its natural surroundings' villa. Wood is the overriding material, with wooden doors opening onto a raised patio, a wooden platform with mattresses and cushions inviting guests to sit down and take in the sheer beauty of this villa and its surroundings.
One could not be blamed if they barely left Tzaneria Tree and its grounds throughout the duration of their holiday. Although with a cluster of idyllic towns and beaches, such as Aghios Konstantinos and Kastroa just a couple of kilometres away, offering tavernas, mini markets and perfect sandy spots, venturing out into Tzaneria Tree's vicinity is certainly recommended.