The unique beauty of the Samaria Gorge on Crete
The Islanders call it the "Farangas" or "Great Gorge", and Crete's Samaria Gorge certainly is! This vast gorge extends from the White Mountains at 1,230 meters high, right down to the Libyan Sea. The path from start to finish is some 16 kilometres in length, which makes it the longest in the whole of Europe.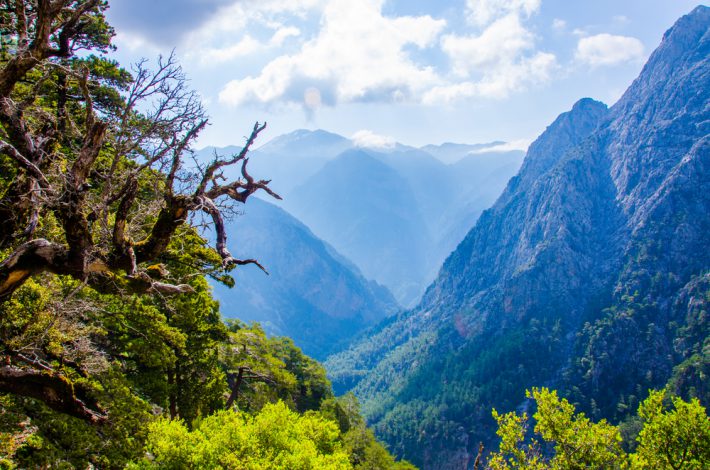 The Samaria Gorge is a stunning piece of nature, with sheer, vertical walls set amongst rugged mountains that tower above you, scattered with rare and protected flora and fauna and areas of ancient pine and cypress trees. There are 450 plant species here, and not one flower can be removed by law.
Inside the gorge, you may meet its wild inhabitants, the goats of Crete, which are named "agrimia", but visitors have nicknamed them "kri-kri".
This wonderful natural walk is amongst the top attractions on the island. About a quarter of a million people wander along its path every year between May and October, when the gorge is open. The gorge will take between three to six hours to walk its complete length, so go prepared!
Almost halfway along the path is the abandoned village of Samaria, whose inhabitants were relocated in 1962. The village is a good opportunity to rest for a while.
The path is well maintained, and is not overly difficult, though there are a few steeper sections, and your legs will feel it by the end. However just keep thinking about that swim in the sea and a lazy meal watching the sunset at Agia Roumeli when you reach the end.
There is also the "lazy way" across the gorge, a shorter path which leads in the other direction from Agia Roumeli up to the "Iron Gates". The Iron Gates is the narrowest part of the gorge, where you can almost touch both sides of the cliff that reaches 350 metres above your head.
To see all that Crete has to offer, it is wise to have a hire car. Why not consider a self-catering base from which to venture out somewhere new each day?
Here are a couple of suggestions for high-quality, self-catering accommodation on the beautiful island of Crete:
Xara
Xara is a captivating, two-bedroom, two-bathroom property with a private swimming pool. The property is in a fantastic location to explore the unspoilt North and West coasts of the island. Kaliviani, just 4 kilometres away, is an authentic Cretan village, with beautiful stone houses, taverns and cafés.  The sandy beach of Vigla is just 1.5 kilometres from Xara.
Spitaki
Spitaki is a comfortable and peaceful Cretan property, with two bedrooms, two bathrooms and private, kidney-shaped swimming pool. Guests can enjoy magnificent views of Souda Bay from the upper terrace of this imaginatively restored village house.