13 Oct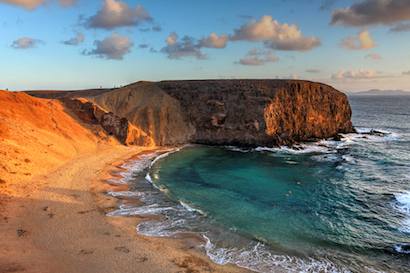 Villa Clara is a smart and elegant newly built house situated close by the thriving town of Tias on the southern end of Lanzarote. The architecture of the villa is angular, stylish and wonderfully white. Views of both mountains and the sea can be seen from the terrace, an appropriate colour combination when you consider the flag of Tias is half green and half blue to denote the reliance the town once had upon the sea and the land.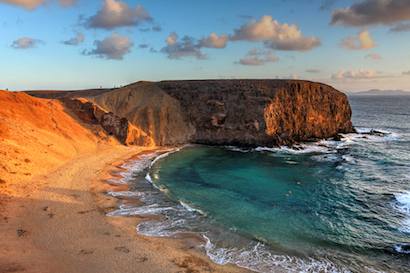 Villa Clara sleeps six people in three bedrooms. There are two twins and a double which is en-suite. Two stylishly-tiled bathrooms ensure there are enough facilities for each guest. The style of the décor in Villa Clara is rustic and robust with chunky wooden furniture present in many of the rooms. This traditional style carries on seamlessly into the covered outside dining area where an impressive wooden beamed roof provides some welcome shade.
The dining room/kitchen and lounge in Villa Clara form a large L-shaped open-plan room with pretty blue draped curtains gracefully adorning the big glass windows. In fact all of the rooms are shiny, bright, clean and welcoming in Villa Clara.
The villa's private pool is deliciously inviting with an ample terrace surrounding it to bask in the sunshine, read a book, or focus your gaze on the distant peaks. The in-built barbecue is the perfect spot to wine and dine in the clear Lanzarote air overlooking some of the impressive views this enchanting island beholds.
The town of Tias is only five minutes' walk from Villa Clara and has a good selection of shops, cafes and bars. Despite being one of the oldest towns on Lanzarote, Tias has a cosmopolitan feel about it as ex-pats from Germany, Holland, Britain and Scandinavia have made the town their permanent home. Though what is particularly appealing about Tias is that despite its cosmopolitanism it retains its Spanish identity.
The wonderful stretch of coastline around Peurto del Carman is a real magnet for those seeking a relaxing beach holiday. Gently shelving beaches with calm waves make this coastline safe for children. The sand is cleaned up every morning and always remains in perfect condition.
For those who want a holiday split between relaxing poolside at the villa and swimming in the Atlantic, then Villa Clara could possibly be the perfect caper.
For more information, photos, availability, prices and to book to stay at the fabulous Villa Clara visit: https://www.vintagetravel.co.uk/villa_details.cfm?p_id=1277