Villa des Sables: A modern villa in a privileged spot on Brittany's Sand Coast
Villa des Sables is a stylish modern villa just a short 100m-walk from a beautiful sandy beach on the north coast of Brittany. This four-bedroom, two-bathroom contemporary property boasts a stylish interior with all the mod-cons you'll need for an exceptionally comfortable and memorable stay in this desirable part of Brittany's Côte des Sables – the Sand Coast.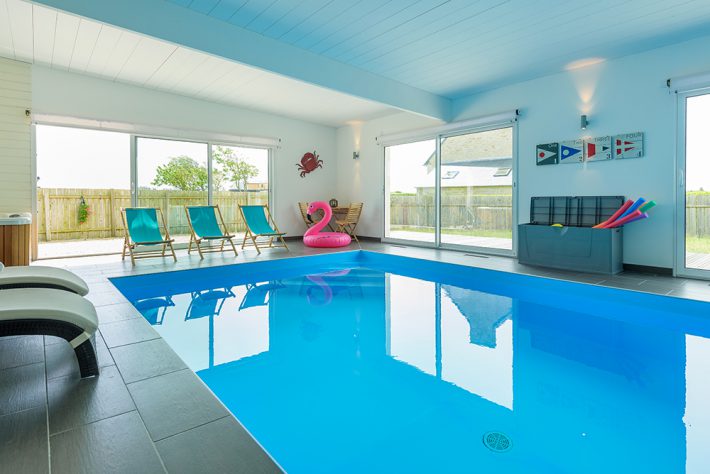 In keeping with its close proximity to the beach, a seaside theme runs through Villa des Sables' décor, with exquisite white furniture, taupe linen and seagulls and seashells being a dominant feature in the rooms.
One undoubtable highlight of Villa des Sables is its large heated indoor swimming pool which can be accessed through patio doors that lead from the living room. Following some lengths in the pool, guests can relax in the villa's three-seater jacuzzi.
Brittany's sunshine can be enjoyed to the maximum in Villa des Sables delightful enclosed gardens and decked terraces, with a barbecue.
This exquisite villa is located in the small hamlet of Ploufloën, which is just 5 kilometres from Plousescat and its extensive stretch of fine, powdery sand. With shops, restaurants and a covered market which dates to the 16th century, shopping and eating out in authentic Breton establishments are conveniently close from Villa des Sables.
Though exploring the exhilarating Côte des Sables has to be one of the greatest pleasures when visiting this region of Brittany. Wild sand dunes and unusually shaped rocks back vast sandy beaches, attracting diverse flora and fauna. These wide-open spaces and long sandy beaches make the Côte des Sables one of the most breath-taking maritime landscapes in the whole of Brittany.
The fabulous Villa des Sables is available for bookings in 2018. To view photos, find out more and book to stay in this upmarket modern villa just a stone's throw from a fine sandy beach, visit Villa des Sables' webpage here.