25 Mar

Huddled between Kaki Lagada Beach on the east and Erimitis Beach on the west, villa Maritsa is perfectly situated for holidaymakers seeking Greek sun, sea and sand. This three-bedroom, two-bathroom country home is a true gem of a find.

Maritsa is located in the village of Fontana in Paxos, a small traditional village that is surrounded by endless olive groves. The villa's central location means guests are in a great spot to explore the dramatic coastal cliffs on Paxos' west coast and the calmer waters on its east coast.
This fabulous country cottage can sleep up to six guests. With air conditioning, Wi-Fi, and a well-equipped kitchen, Maritsa is laden with mod-cons to ensure a comfortable and convenient stay is enjoyed by all.
With an outer façade made of whitewashed walls, adorned by pretty turquoise-coloured shutters and doors, framed by colourful flowers and a stone-paved terrace, Maritsa possesses a truly traditional country cottage exterior.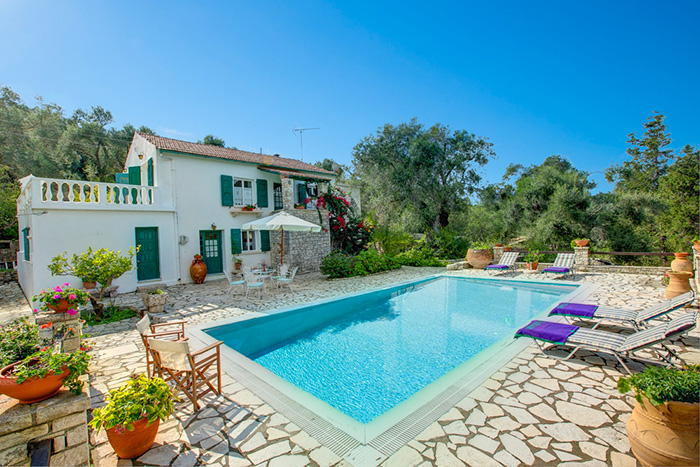 Inside is just as delightful. With wooden flooring complemented by wooden ceilings and numerous delightfully quirky furnishings in between, Maritsa is a pleasure to spend time in.
The whole property combines traditional décor with modern conveniences, with maximum results.
The bedrooms are light, airy and decorated in a simple style, boasting fantastic views of the stunning countryside that surrounds this country cottage.
In fact, the whole of Maritsa is justifiably designed to make the most of its incredible views. The outside terrace has a built-in barbecue so guests can wine and dine in the fresh Paxos air. A shaded terrace means breakfast, lunch, dinner and supper can be enjoyed without the glare of the sun beating down.
From the pool and poolside patio you can take full advantage of the great vistas, which span out across olive trees, verdant countryside and out towards the sea.
At Maritsa guests are in a convenient position to explore Paxos' diverse coastlines. The nearby Kaki Lagada Beach is a short walk away from the house and remains surprisingly quiet even in the high summer. The livelier beaches near Loggos are just a 30-minute walk from the house.
Fontana – also known as Platanos – is a sleepy village where locals congregate in the small village square with a church, shop and former school.
Just four kilometres from Maritsa is the larger town of Gaios, which boasts a bustling port with elegant yachts and traditional fishing boats and bars and cafes where you can watch life in Paxos go by.
For more information about the delightful country cottage of Maritsa visit the webpage at: https://www.vintagetravel.co.uk/villa_details.cfm?p_id=2323