Villa Pinell: A property with the Wow Factor looking down on the exquisite coastal town of Llafranc
Villa Pinell is a superbly stylish property that enjoys an elevated waterside position in the upmarket Costa Brava town of Llafranc. This elegant coastal residence comprises of four bedrooms and five bathrooms, sleeping up to eight guests.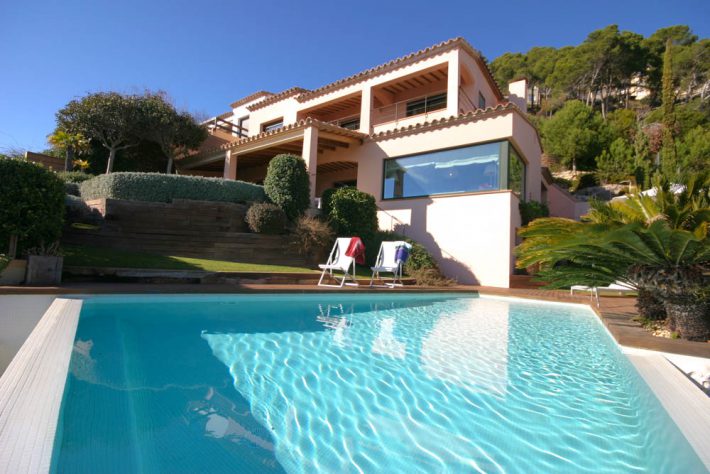 Due to its incredible seascape vista that stretches across the Mediterranean, that's really made the most of from the villa's infinity pool, tiered gardens and open and closed terraces, Vintage Travel has given Villa Pinell a 'Wow Property' status!
Given its enviable situation, nestled into the cliff face above one of Catalonia's most desirable coastal towns, it comes as little surprise that Villa Pinell's interior is as captivating and swish as its exterior.
Cool, cream tiles underfoot stylishly correspond with the bright and tasteful colour palette, fabrics and furniture that give the villa its warm, welcoming and sophisticated ambiance. The property's spacious, airy and open-plan interior is really brought alive with the breath-taking panoramic outlook that can't be missed through the villa's wide picture windows.
This fascinating view can be enjoyed to the optimum by guests staying in the three bedrooms on the first floor. All three bedrooms walk out onto a terrace that looks out onto the shoreline scattered in pine trees, gently lapped by the Mediterranean with exquisite yachts moored in the water. And guests staying in the master suite can really experience a taste of luxury, with not just one en-suite bathroom, but two!
If you can manage to leave Villa Pinell's glamorous grounds with your own private viewing spot of what has to be one of the most desirable views of the Med, the upmarket fishing town of Llafranc is a delight to explore. This elegant town's sandy bay is backed by a line of quality seaside restaurants.
A delightful coastal path made from natural local materials connects Llafranc with the equally as picturesque neighbouring fishing village of Calella de Palafrugell. This beguiling shoreline can be reached with ease from Villa Pinell via of short leisurely stroll down some quaint rustic steps.
To view photos, learn more and book to stay at what has to be one of the impressive villas in this ultra-desirable part of Spain, visit Villa Pinell's webpage.