26 Mar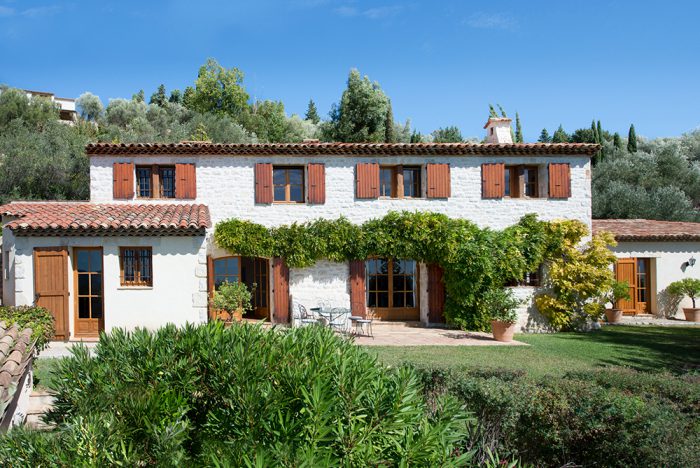 With pretty, red shutters set against a whitewashed façade, Villa St Martin oozes quaintness and character as soon as you cast your eyes on it. This lovely traditional property comprises of four bedrooms and four bathrooms, sleeping eight guests in comfort.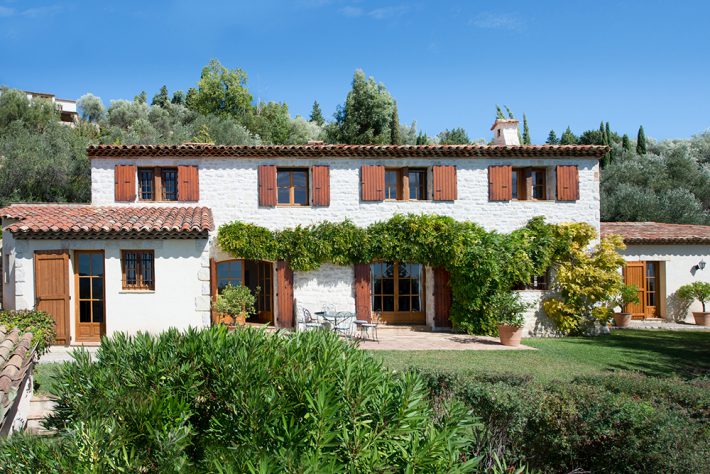 Villa St Martin is hidden amongst rambling foliage in a desirable residential area not far from the hillside village of Châteauneuf, inland on the Cote d'Azur.
Set within spacious grounds bordered by trees and hedgerows, Villa St Martin really is a 'getaway from it all' type of property. Despite its rustic appeal, Villa St Martin tastefully combines the old and the new, its original beams, floors and walls complemented stylishly with eye-catching white sofas and light fabrics.
Guests sleeping in the ground floor bedroom can walk straight out onto the pretty garden, ideal for those quick morning dips in the private pool. The elegantly-designed first floor bedrooms are equally appealing, boasting incredible views that stretch across the fertile landscape inland Provence is renowned for.
Villa St Martin is really geared up for al fresco living, with a wood oven, barbecue and terrace making wining and dining in the great outdoors ultra-convenient. While a table tennis table and boules set provide the perfect pre-dinner entertainment.
For larger groups of two separate parties wanting their own privacy, the villa has a separate annexe for two.
The pretty hilltop village of Châteauneuf is just a short distance from the property, where meandering round the medieval streets and taking in the panoramic views of the Rhone Valley that lies beneath this elevated town is an experience to behold.
The town is surrounded by hectare upon hectare of vineyards producing glorious rich reds and exquisite whites.
The small village of Opio is also nearby. With little more than a church and a handful of houses, this hilltop hamlet that's surrounded by the delightful landscape this part of France is blessed with, really is a delight to visit. For a livelier scene head to the larger town of Grasse which is less than 5km from the villa, the perfume capital of the world.
To view photos of Villa St Martin, check availability and make a booking, visit the property's webpage.