13 Oct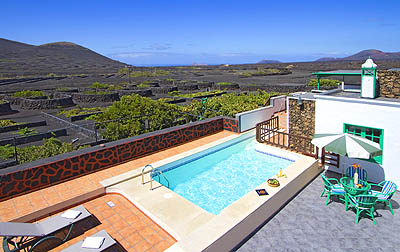 Being the easternmost point of Spain and just 125 kilometres off the coast of Africa it is not difficult to comprehend that the island of Lanzarote luxuriates all year sunshine, minimal rain and mild temperatures. With its dramatic volcanic scenery, white sandy beaches unblemished by manmade edifices but given spirit by the unpredictable Atlantic Ocean crashing across the shores, Lanzarote yields many diversely mesmerizing charms that attracts visitors of all ages.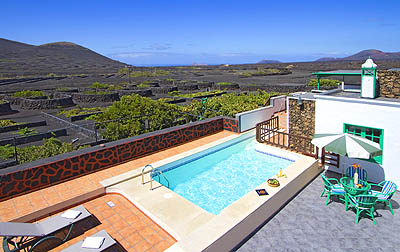 Vintage Travel, with its uncanny knack in seeking out the most exclusive accommodation in the most heavenly of locations, really have excelled in its meticulously selected Lanzarote collection, new for 2011. As ever, attention to detail is paramount, although on the island of Lanzarote attention to detail is a dominant feature in all walks of life. Lie back, visualize and imagine what soon could be a reality…
Spawning spectacular views across Lanzarote's uniquely varied landscapes, Finca Romera lies deep in the heat of the wine growing region in the verdurous valley of La Gerla. Wine dominates the scene here with many beautiful bodegas lining the road running through the valley, proudly displaying the finest local produce.
In keeping with the local style, the dazzling whitewashed Finca Romera contrasts stunningly with the azure and cloudless sky above and the deep emerald valleys framed by the magnificent distant mountains of the Timanfaya National Park. A large patio area with terraces and a crystal clear pool with Roman steps, alluringly beckons for a bottle of the local 'vino' to be opened and savoured whilst taking in the sublime views. This spacious and traditional property sleeps up to six, having three bedrooms and two bathrooms.
Situated in the southwest corner of Lanzarote, Casa Mariola, being just minutes from golden sandy beaches amidst rolling hillsides, grand gorges and quaint pretty villages, satisfies for every scenic taste.
This stylish, light and airy cortijo sleeps six and although it indulges in some tastefully modern furnishings, its whitewashed walls stylishly comply with the features seen in the nearby white village of Brenas. A garden of cacti eases the walk from this delightfully appealing property to the fenced patio and pool area.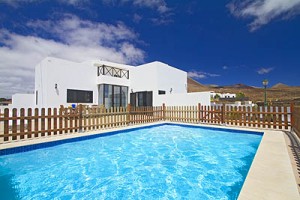 Cited by many as being 'Lanzarote's most beautiful village', the pueblo of Yaiza is just 7 kilometres from the house and with its sea of brightly coloured flowers lining the window frames, is well worthy of a visit. Exploring the unspoilt beaches and tranquil coves in the area provides for fascinating journeying of one of Lanzoraote's prettiest regions.
Time seems to have conveniently overlooked Isla Graciosa, which lies a mile across the water from Lanzarote's northern shores. While other regions and resorts are often described as being the epitome of solitude and tranquillity, the island of Graciosa, free from the pollution of any vehicles, really is an embodiment of peace.
Given its dedication to tracking down the most secluded of accommodation, Vintage Travel is proud to have added Casa la Graciosa to its books. Gazing out across the ocean just yards from the waters edge, this beautiful and spacious villa sleeps eight and its heated pool is the only known swimming pool on the island.
Situated in the town of Caleta del Sebo visitors can enjoy meandering through the many charming shops, restaurants and bars the town possesses.
Costa Tequise, with its palm lined beaches is one of Lanzarote's more sophisticated shorelines that is bustling with both life and tradition. Located in an idyllically rural setting, Cortijo de Cabreron enjoys panoramic views of sweeping picturesque countryside.
Having been lovingly restored, Cortijo de Cabreron has retained much of its original character, and its stone walls, colourful ceramics, intricate paint work, rustic stone terrace and vibrant garden, a cocktail of cacti and flowers, guarantees to enchant visitors and leave them begging to return.