13 Feb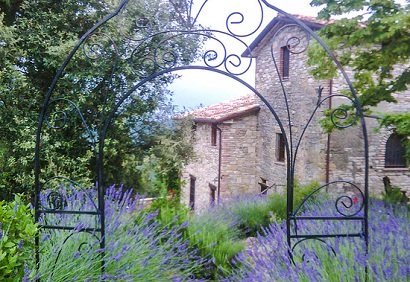 Casale Tiberina – A luxury villa in Umbria nestled on the border of two of the most culturally-stimulated regions in Europe. If you fancy spending a week or two being perched on a hillside overlooking 12 acres of private grounds  and woodland set amongst a panoramic backdrop of jaw-dropping Umbrian landscape, then Casale Tiberina could possibly be the accommodation you are looking for.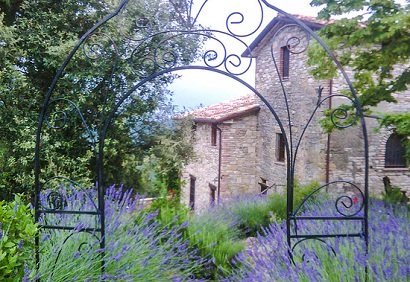 Many people who go to Umbria have aspirations to be historically-enlightened, for the simple fact that this glorious part of the world is laden with unique, ancient and wholly interesting historical highlights. And none more so than this remarkable luxury villa in Umbria, which is on the ruin of an ancient church, with parts of the house dating back to the 11th century.
Despite its antique origins running throughout the property, Casale Tiberina radiates an incredibly warming and sophisticated persona.
Asides boosting many delightfully original features, such as beamed ceilings, exposed brickwork, a huge fireplace and tiled flooring, this four bedroom villa has all the appliances and modernisms you would want to make your stay here as comfortable as possible.  These modern features in WiFi, central heating, en-suite bathrooms, a roll-top bath, ceiling fans, TV room with DVD player, microwave, dishwasher, American style fridge/freezer, air conditioning, and, perhaps most importantly given that you are in Italy, a wine cooler!
Being spaced over three floors, Casale Tiberina comfortably accommodates eight guests, although it is outside that generates an exceptional feeling of space. Set within 12 acres of tastefully landscaped gardens, you can literally get lost in the villa's huge private grounds.
As well as open and shaded terraces with a delightful fountain and a five-acre fully enclosed pond, there is a barbeque and a kitchen garden, close to a solar heated private swimming pool with Roman steps and an infinity edge.
Although it is not just this remarkable villas' internal and external delights that lures in guests and warrants a truly memorable stay, as it is all the places that are within reaching distance of Casale Tiberina that makes it that bit extra special.
Much of Umbria's charm is the many ancient and picturesque towns and villages that are scattered about the region and none more so that the village of Monte Santa Maria Tiberina that is a stone's throw from the villa.
Situated in the Upper Tiber Valley, this unique village has ancient Etruscan roots although is truly medieval at heart. If meandering through narrow streets and walkways, coming across an ancient building of historical importance and architectural splendour on almost every corner sounds appealing, then Monte Santa Maria Tiberina certainly won't disappoint.