26 Apr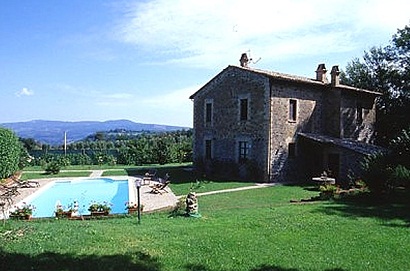 A marvel within a marvel – Vintage Travel puts II Rosaio in Orvieto, Umbria on their books!
The city of Orvieto, perched on a volcanic plug, on the flat summit of a huge butte of volcanic tuff in south-western Umbria, has been cited as being one of the most dramatic cities in Europe. This ancient city surges above the perpendicular faces of the tuff cliffs, which were made even mightier when defensive walls were built from the same Tufa stone.
The old part of this absorbing city is identifiably Etruscan, developed in Italy in approximately 800 BC and was a major town during the Etruscan civilization, and in a city this ancient yet amazingly well-reserved, there are naturally a plethora of sites and marvels for the historically-minded tourist to get lost in.
The magnificent Orvieto Cathedral (Duomo) is one such site, a huge awe-inspiring structure which was built under the orders of Pope IV in the 14th century. A large rose window, three mighty bronze doors, walls strewn with golden mosaics and two intrinsically decorated chapels, possessing glaringly stark images of Judgement Day, means Orvieto Cathedral never fails to mesmerise all who catch sight of it.
Stroll across the street from the Duomo and walk into the Museo Claudio Faina, Orvieto's archaeological museum. Here visitors can muse through this former palace's many rooms, crammed with artefacts from the Etruscan era.
Asides the hordes of historically-inspirational sites and attractions, Orvieto is famous for its wine, with many of the town's local wineries putting on tours and tastings. Or, perhaps a simpler pleasure, is sipping classic Orvieto wine from a ceramic cup with watching the sun drench the magnificent Duomo cathedral – life doesn't get much better than this!
If you are looking for a luxury villa in Orvieto, Vintage Travel recommends II Rosaio, a delightful stone property set within spacious grounds just five kilometres from the city of Orvieto.
This beautiful house, snuggled within a frame of trees and laurel hedges, sleeps eight, with its four airy bedrooms and three bedrooms featuring many traditional delights, such as wooden floors, beamed ceiling and stone walls – in-keeping immensely with the area of which II Rosaio sits.
Outside in the property's expansive grounds, one can be absorbed by the simply breath-taking views that surround II Rosaio, or be refreshed in the large private pool. Dining outside on the covered terrace which abuts the kitchen, listening to the small stream which runs alongside the grounds, is as pleasurable as dining inside, just another arduous decision visitors are faced with during their stay at II Rosaio!
A week's rental of the luxury villa in Orvieto, II Rosaio, starts from £1650, rising to £2995 during peak season.