02 Oct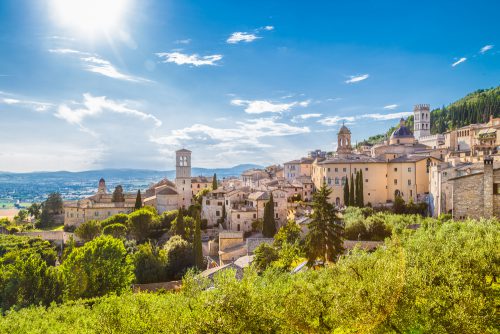 One of Italy's most eminent towns of the wonderful Assisi in the Umbria region. Much of this UNESCO World Heritage Site's fame stems from the fact Assisi was the birthplace of St. Francis, one of Italy's patron saints.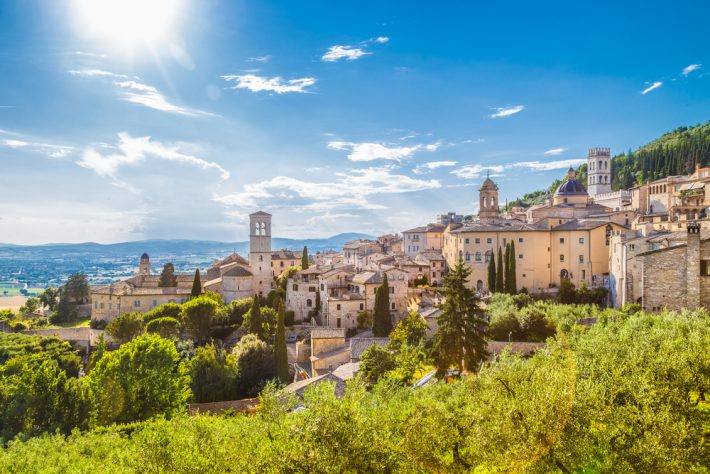 St. Francis gave up all his possessions to devote his life to helping the poor, vulnerable and in need. The town's incredible basilica that stands high on Mount Subasio, overlooking the town and the entire valley, is dedicated to St. Francis.
This huge and magnificent basilica comprises of two churches and a crypt, which houses the tomb of St. Francis. So vast is this mighty place of worship that it contains a lower basilica and an upper basilica. The lower basilica's interior is covered in murals and paintings, by some of the most celebrated painters of the 13th and 14th centuries, including Giotto, Cimabue and Lorenzettis.
The upper basilica is full of frescoes of St. Francis, which map out the Saint's lifecycle, painted by the maestro Giotto.
Religious pilgrims have been coming to the basilica at Assisi since the 13th century to pay their respect to St. Francis. Today, Assisi is hailed as a 'global symbol of peace'. This beautiful town is twinned with Bethlehem and Santiago di Compostella in Spain. It has been the destination of three meetings of the major world religions, one in 1986 assembled by Pope Paul II, another in 2002 also by Pope Paul II and the third by Pope Benedict XVI in 2011.
Asides the spectacular basilica where St. Francis is buried and the incredibly well-preserved medieval architecture, much of Assisi's appeal is its position, elevated above rolling Umbrian hillsides and meadows and the dense forests of Monte Subasio.
Artisans are at home in Assisi. The narrow streets are lined with quaint little shops selling local ceramics and art, as well as religious sculptures and medieval weapons.
The town is also devoted to selling mouth-watering products in its many delicatessens, including Umbrian dried meats and Umbrian chocolates, produced at the nearby Perugina chocolate factory.
Yes, it's safe to say that even if you aren't religious, the twinkling, Bethlehem-esque town of Assisi is a truly mesmerising place to visit.