26 Sep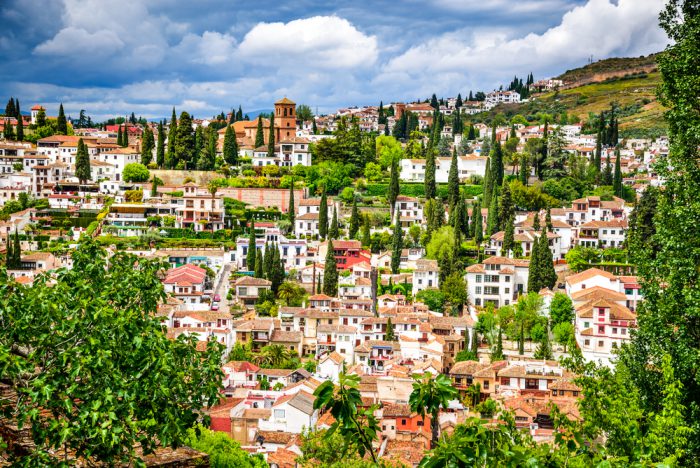 The city of Granada in Andalusia is an incredible place to visit, with even its name sounding exotic! Though we have to admit, the jewel in Granada's crown is the Alhambra Palace.
For many years the Alhambra Palace was left abandoned, and became the home of wandering gypsies and vagrants. But somehow, its wonderful tiles seen in the part called the Nazarene Palace survived, and the whole complex including the gardens and old fort, from which you can look down on the vista of the town, was resurrected and has become a major tourist attraction.
Another great view of the Palace can be seen from the mirador (viewing platform) on the opposing hillside. This area is called the Albaicin and was once itself an area for the poor and dispossessed, not somewhere to go after dark, but has now become the trendy place to own a property within its winding, cobbled streets.
A walk around the area is a must as you can peep into wonderful shaded courtyards full of green plants. The viewing areas for the Alhambra are a popular meeting place for local musicians. You can often see guitarists accompanying flamenco singers and dancers. In a land full of great performers, even the locals will astound you with their virtuosity. Further along the Albaicin, there are regular professional Flamenco evenings, full of atmosphere and raw emotion, and the wine certainly helps with the feeling of 'Duende'- A heady mix of physical, and emotional response to great art.
Although you can walk up to the Albaicin, try going at least one way on one of the local small buses, but hang on tight, they don't take any prisoners around some of the twisty little roads! You pay once and can get on and off at your will, and the buses are very frequent. Visiting the numerous Moroccan style shops that line the lower roads in a fabulous pastime in Granada!
Just one word of advice, during summer the Alhambra Palace is very crowded with tourists. It is advisable to buy your tickets online to avoid disappointment, or better still visit out of season when you can wander around in more pleasant temperatures, without being jostled.