Visiting Castillonnès in South West France sometime soon? Stay at the pretty La Petite Maison
The market town of Castillonnès is one of many small and picturesque bastide towns in the Garonne department of south-west France. Having managed to avoid succumbing to the throws of mass tourism, Castillonnès retains its charm as a quiet, working French town.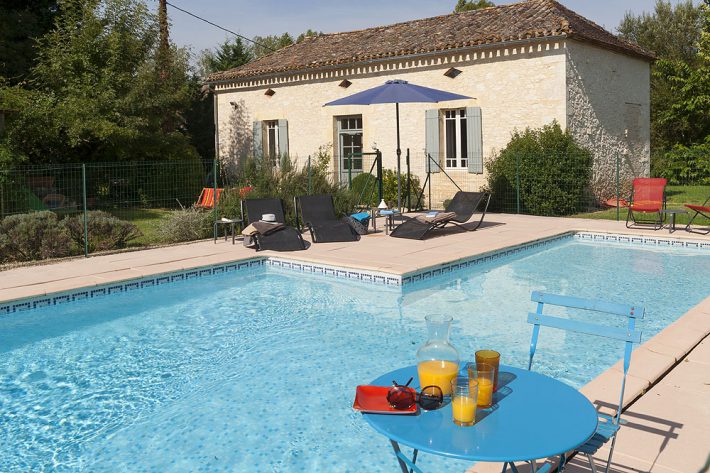 La Petite Maison is within walking distance to the impressive bastide of Castillonnès. This beautifully-restored farmhouse provides the ideal getaway for those looking for a peaceful escape to a truly authentic part of France.
This two bedroom, two bathroom cottage sleeps between four and five guests. The cream, stone-cladded cottage, with its pale blue shutters and tiled roof blends seamlessly with the bucolic rural French landscape that surrounds it.
Internally, La Petite Maison benefits from an open-plan design, which gives it the feeling of space. Exposed stone walls are complemented with many other natural features, including wooden beams overhead and cool, terracotta tiles underfoot.
An impressive staircase winds to the first floor, where a cosy mezzanine is the ideal spot to unwind and relax with a great book. Though as appealing as snuggling up in an intimate mezzanine sounds, so too does bathing in the property's private swimming pool.
This fenced pool is surrounded by a patio area, perfect for sunbathing, having a refreshing drink or simply watching the kids splash about and have fun in the pool.
La Petite Maison's grounds are also geared towards dining outside, with a shaded pergola providing a great place to lay the table and tuck into a fabulous family meal.
Though wining and dining in quality French restaurants is also there for the taking at La Petite Maison, as Castillonnès is just three kilometres away. You can visit this pretty little market town via a quiet country path.
The bigger towns of Beaumont-du-Perigold and Monpazier are around 25 kilometres from La Petit Maison. Both are a true pleasure to visit with Monpazier described as one of France's most beautiful towns.
If you would like to find out more about La Petite Maison and to book to stay at this pretty rural cottage, visit the property's official webpage.