01 Mar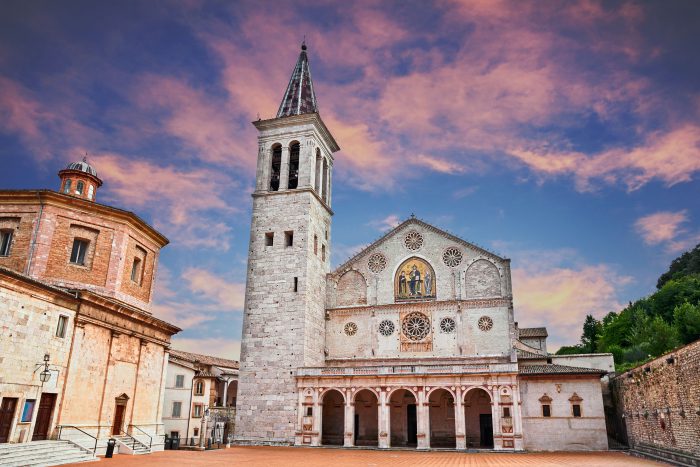 Surrounded by densely-populated olive groves, rolling hills and flourishing vineyards, the city of Spoleto boasts a magnificent position in the heart of the province of Perugia, Umbria.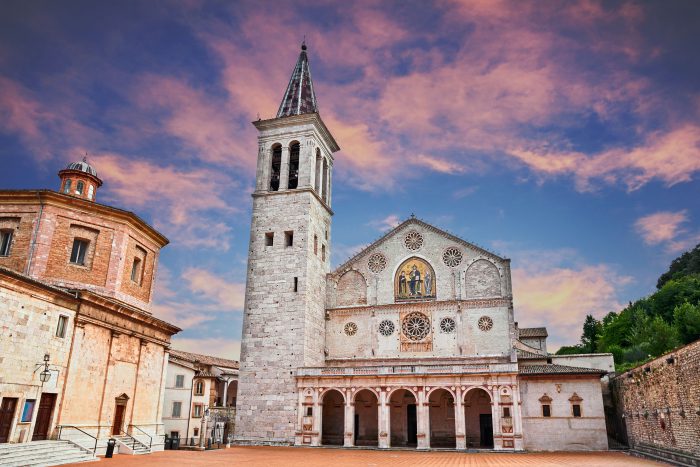 This ancient city is a culture vulture's paradise, with remarkable feats of architecture around every corner, including a 2nd century Roman amphitheatre, a 13th century palace, an aqueduct also from the 13th century, amongst many, many more ancient marvels.
One of the city's most significant, dominant and visited civil monuments is the Spoleto Cathedral, built in the 12th century in a Romanic style.
Between 1491 and 1504, a portico in a Renaissance style was added to the cathedral and in the 17th century, the interior underwent significant renovation and was decorated for Pope Urban VII.
Walking into this beautiful cathedral is a sight to behold, where three naves on columns stand majestically, alongside many great works of art. The right-hand side chapel contains a fresco with the Madonna and the Saints by Pinturicchio. A coin-operated light illuminates this simply stunning fresco, as well as the frescos from the early 16th century in the neighbouring chapel.
The cathedral is home to the tomb of Filippo, which was designed by his son at the request of Lorenzo de' Medici, a statesman and de facto ruler of the Florentine Republic who was passionate about Renaissance culture.
The cathedral's bell tower is constructed from the stone of Roman temples. At the foot of the stairs, a 3rd century Roman sarcophagus serves as a beautiful fountain.
Adding to the visual splendour of this remarkable cathedral is the densely-forested hill that backs the edifice, making it the perfect stage for the finale of the Spoleto Festival of Two Worlds.
This annual festival is one of the oldest and most important festivals in Umbria. It was founded in 1958 by the composer Gian Carlo Menotti, with the aim of joining two cultures and two artistic worlds.
This fascinating festival takes place in July and never fails to attract throngs of visitors from around the world.
If you are visiting the beguiling Umbrian city of Spoleto, a trip to its majestic cathedral is, quite simply, a must.