27 Feb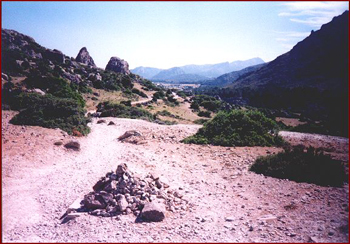 We discovered a fantastic walk on nymcam.co.uk around the stunning Boquer Valley in Majorca and felt the urge to share it with you.
It's a 4 mile 'off the beaten track' walk with some breathtaking views.
The walk starts just outside the Oro Playa holiday apartments, Puerto Pollensa, along an avenue of ancient pines interspersed with tamarisk trees – the wide pathway was once part of the entrance road to the Boquer finca (farm).
Passing through the gates you'll soon arrive at the castellated front of the farmhouse buildings.
From the farmhouse courtyard you will enjoy spectacular views south-east back towards the resort of Puerto Pollensa and in the far distance across the Bay of Pollensa, to the popular coastal holiday resort area of Alcudia  and south-west along a fertile valley towards the ancient town of Pollensa.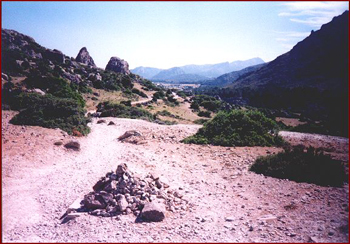 The route takes you through another metal gate beside the farmhouse and along a rough stony track
up towards a narrow 'pass' between limestone rocks. As you continue up the gentle climb, you'll pass some abandoned farm machinery.
After passing through the 'narrows', the track widens and continues gently uphill. The path is cairned in places and easy to follow – although the going is rough and stony, so we recommend a pair of good walking boots
The Boquer Valley is very popular with 'twitchers' (birdwatchers) as it is a famous stopover for
migratory species during early spring and late autumn – you'll see hoopoes and a possibly large birds of prey soaring nearing the cliff-tops.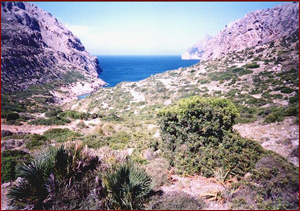 Continuing along the track you'll pass through a 'gate' in an old stone wall which spans the full width of the valley.
Across on your left is the sharp-tipped limestone ridge of Serra del Cavall Bernatt which shelters
the valley from strong northerly winds – the far side of the ridge drops dramatically a sheer 300 metres into the sea. The peak on the right is that of Penyal Roig (265 m).
The terrain here contrasts greatly with pistacia (mastic) bushes dwarf fan palms and pampas grass lining the path, which meanders between huge boulders towards the coll.
Just over the crest of the coll we get our first view of the bay of Cala Boquer (cala meaning cove or inlet).
Before returning 'home' via the same track, be sure to take a last look at the beautiful bay of Cala Boquer… breathtaking!
It not a long-distance walk, but it is tiring in the heat – however, the superb views will make the effort well worthwhile and I highly recommend the walk if you're ever in the area on holiday – just make sure you take plenty of water!