10 Feb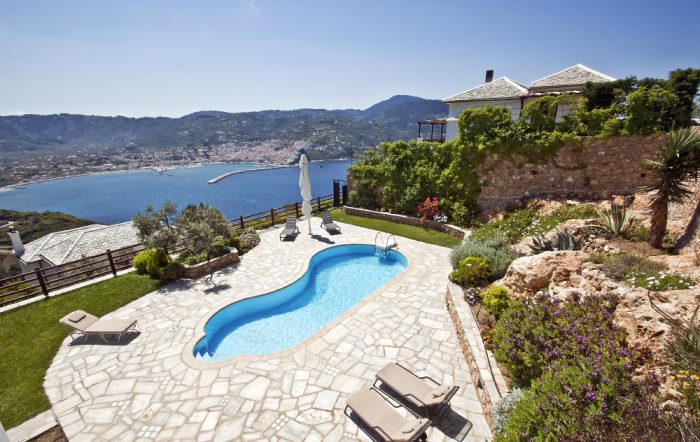 Vintage Travel is thrilled to welcome Donna to our Skopelos portfolio, a fabulous three-bedroom, two-bathroom villa, which boasts incredible sea views that sweep across the nearby Skopelos Town and its elegant harbour.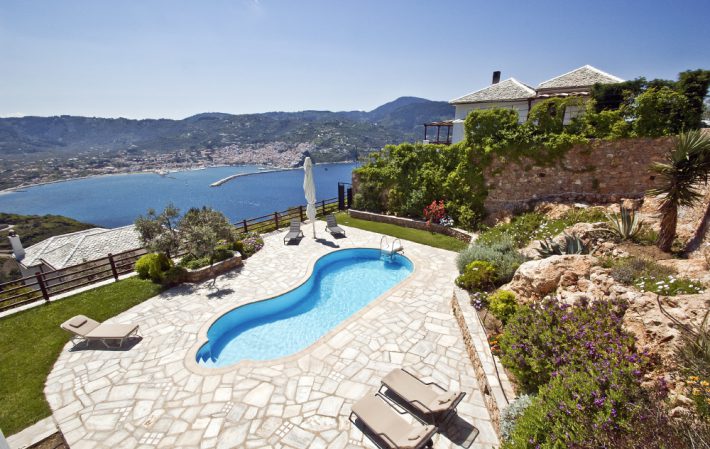 This spacious property can sleep up to six guests in comfort. A traditionally Greek style interior with quirky furnishings and features, including a wooden, vaulted ceiling, slate-coloured floor tiles, and intricately detailed brickwork, augments the charm and appeal of Donna.
Donna is ideal for parties looking to relax in a tranquil environment and enjoy some privacy, as the villa benefits from a clever design with three bedrooms and two bathrooms spread out over three different floors.
Externally, Donna is equally as delightful, with a built-in barbecue area, a shaded dining area, an open sun terrace, a kidney-shaped private pool and a lovely lawn with rockery, offering guests the chance to wine, dine, swim, sunbathe, meander round the garden or simply relax and take in the spectacular views that surround this well-positioned villa.
If you can manage to drag yourself away from Donna and all its luxuries, you'll be rewarded with having plenty of natural beauty to explore.
Stafylos Beach is just six kilometres from the house, with the sheltered bay of Glysteri Beach just a 20-minute drive from Donna. This pretty bay is sheltered by hillsides covered in a carpet of sweet-smelling pine trees.
Skopelos Town is just a 15-minute drive from Donna, down a predominantly unmade road. This town is the island's bustling capital, and has something for everyone; from tiny squares to sit and become acquainted with traditional Skopelos life, to lively bars and a great music scene, not to mention traditional Greek architecture and quant little churches, there is plenty to become absorbed in for all the family in Skopelos Town.
For more information about Donna on the beautiful island of Skopelos and to make a booking, visit the property on the Vintage Travel site.