Where to visit in Le Marche – Ascoli Piceno and Urbino
Rambling around a twisting and turning 100-mile coastline, enveloping ancient hilltop villages to rival those of Tuscany, Istria and Provence, Le Marche in Italy is an incredible region to explore.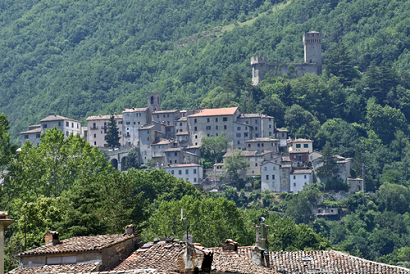 Being one of Italy's lesser known areas one tends to assume it might be more economical to the tourist than the likes of Tuscany and Umbria. While this may or may not be the case, being less well-known typically means less crowded, which certainly augments Le Marche's appeal. Stretching around 100 miles of the Adriatic coast, Umbria is blessed with vast stretches of  golden sands, intermittently broken up by quirky coves and dramatic cliffs, which for much of the year, remain relatively empty.
And it's not just the region's fringe that provides an exhilarating discovery of stunning natural beauty – Its interior boasts square mile after square mile of lush rolling hills, plunging valleys and rich farming terrain, lightly scattered with bustling market towns, sleepy hamlets and 'one-horse' villages. Between this network of towns and villages where time has almost stood still, Le Marche's two cultural powerhouses can be found – Ascoli Piceno and Urbino.
Urbino
This steep hilltop town has been the home and source of inspiration for many influential painters. It was the birthplace of Raphael, the painter and architect of the High Renaissance. The town experienced a cultural flowering in the 15th century, when many an artist and scholar flocked here, keen to embark on the flourishing cultural scene occurring in Urbino, which played an influencial role in the cultural developments elsewhere in Europe. The town's magnetism to lure in artists still exists today. In fact Urbino is the home of the contemporary painter, Federico Barocci, who was exhibited at the National Gallery in London in May last year.
Urbino's Ducal Palace is the main cultural attraction of the town. Built in the 15th century by Duke Federico da Montefeltro, because of its enormity, the palace was often referred to as 'a town in the shape of a palace", housing 500 – 600 inhabitants. In 1912 this vast palace became the home of the National Gallery of Le Marche, displayng some of the most important paintings of the Renaissance.
Ascoli Piceno
Ascoli Piceno was referred to by the Guardian as the "city of travertine" where 'wandering' opposed to 'ticking off' sites is recommended. This honey-coloured town is another cultural highlight of Le Marche. The town's prized possession has to the colourful Roman mosaic on display at the Museo Archaeological Statale on Piazza Arringo. Due to an provocative optical illusion, the mosaic's central character transforms from a young faun into an older figure as one walks around it.
If you are looking for some Italian cultural inspiration in 2014 in a landscape bursting with unspoilt and timeless natural treasures that is void of people and crowds, then Le Marche should definitely be a contending destination.