12 Apr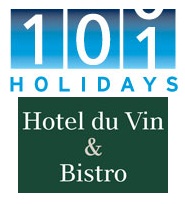 101 Holidays have launched a fabulous writing competition, giving you the chance to escape on a pampering two-night break to taste a touch of Britain.
Write a short hotel review of 140 characters or less, 'Tweet' it on Twitter and you could win a two-night stay for yourself and a guest in a Hotel du Vin of your choice.
This UK writing competition will also help others with every entry…
Not only will you have the chance to spend two luxurious nights in one of Britain's most glamorous, award-winning hotel groups, with stunning properties situated in the heart some of the UK's most historical, culturally-rewarding and picturesque cities, including Edinburgh, York and Brighton, but for every entrance, 101 Holidays will donate £1 to the Family Holiday Association.
It is a sad but true fact that more than two million children living in the UK never go to the seaside, let alone on holiday, because their parents simply cannot afford to. The Family Association is dedicated to helping children experience the sheer joy and elation of visiting the seaside and hopes to send 2,000 families on holiday this year.
To help the charity achieve its goal, and to have the chance to win a superb relaxing break in first-rate British accommodation, email a short hotel review, no more than 140 characters (about 20 words), and post it on to Twitter (with the hashtag #101comp – you must include this and the name of the hotel in your Tweet).
If you don't have a Twitter account, simply send the review to Catherine@101holidays.co.uk
All entries will be judged by Alison Rice, the award-winning travel writer, journalist and broadcaster and Vice-Chairman of the Family Holiday Association.
You'll have to hurry though; all entries must be received no later than 3 May 2011.
For more information on 101 Holidays and the competition, click HERE….Good luck!