31 Jan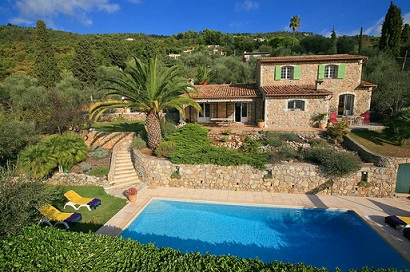 Vintage Travel is proud to announce the Cote d'Azur's Mas des Oliviers and Passiflore to our books.
Vintage Travel's portfolio of holiday villas in Provence and the Cote d'Azur is intensifying in quantity, quality and grandeur, with the arrival of yet two more stunning villas.
The latest of our holiday villas in Provence is the villa Mas des Oliviers nestled within the pastel hillside village of Speracedes, 7 km from Grasse and 25 km from Cannes, blossoms under a superb Mediterranean environment, surrounded by cypresses and olive trees, hence the property's well-chosen name 'Mas des Oliviers'.
This stunning villa has 3 bedrooms, 2 bathrooms and can sleep up to six people. Its isolated spot equidistant between the ocean and the mountains means Mas des Oliviers sports to-die-for panoramic views.
Beautifully restored to maintain an exterior typical of the Provencal style, this breath-taking house combines traditional décor with a contemporary, bright and airy style, and the results are simply divine. This eclectic mix of the modern and traditional means that there is cosiness and warmth attached to Mas des Oliviers that is not present in many modern villas.
Outside the villa is equally as absorbing, with a spacious terrace that extends the whole length of the house and a tiered garden providing guests with an outdoor rapture of magnificent views, a dip in the beautiful private pool, taking a walk through the cascading gardens, amidst a Mediterranean landscape at its most privileged.
For prices, availability and photographs of Mas des Oliviers, our newest addition to our holiday villas in Provence, click on the link.
Equally as extraordinary is Passiflore, situated close to the medieval fortified village of St. Cezaire, which sits proudly on a mountain ledge, overlooking the Siagne River and a densely forested valley.
This magnificent villa has 3 bedrooms, 2 bathrooms and can accommodate up to six guests. Possessing a subtle Oriental theme, Passiflore oozes exoticness, spaciousness and style. Its blend of pastel shades and natural tones creates a sense of friendliness, an affability that continues into the property's extensive exterior.
Children and adults alike just love to explore these extensive grounds, which comprise of an inviting pool infringed with indigenous palm trees and exotic shrubs. Whilst a nearby summer kitchen means that guests never have to travel far for an ice-cold drink to refresh themselves!