30 Jul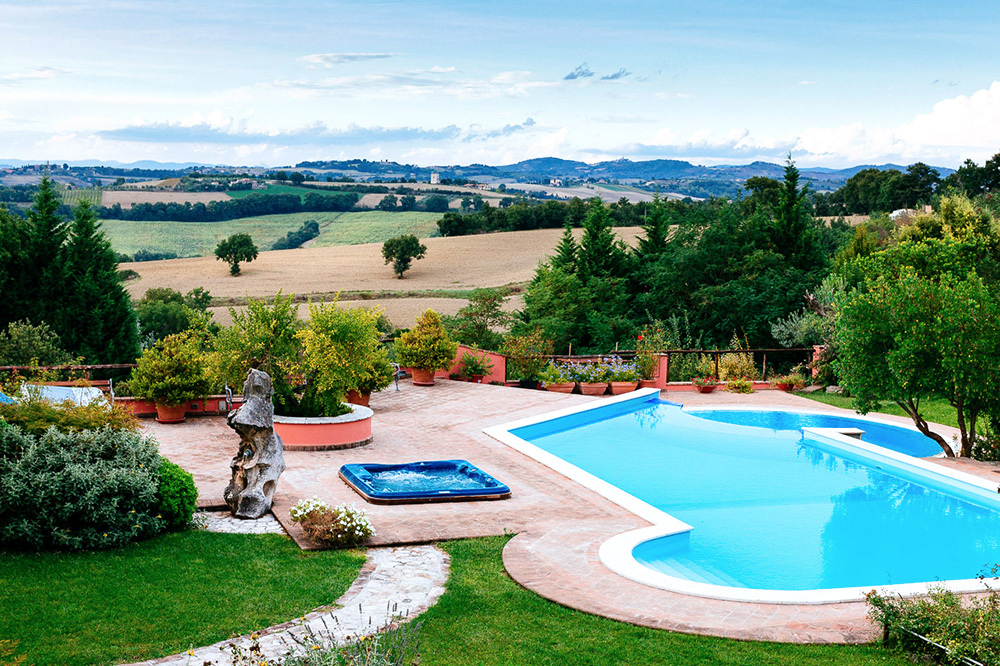 We are delighted to announce the addition of a lovely new Umbrian home: Villa Due Santi. This modern, playful and comfortable house sleeps ten guests in ample room, both outside and inside. Surrounded by Umbrian countryside at its finest, Villa Due Santi is located close to the beautiful town of Todi.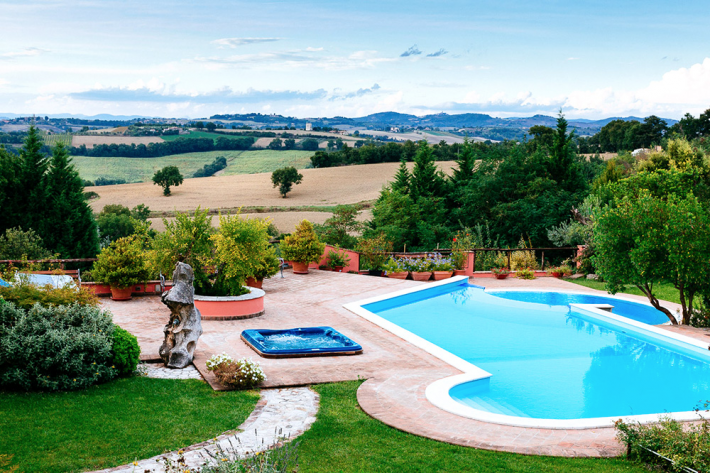 This six bedroom, eight bathroom house features all the mod cons to ensure your stay in central Italian countryside is as comfortable and relaxing as it should be. Wi-Fi, central heating for those out of high season visits and air-conditioning are all available.
One of Villa Due Santi's biggest highlights is a huge second living/dining room on the lower ground floor, which has been designed in an incredible den-like style, together with DJ booth and disco lights!
A private disco isn't Villa Due Santi's only playful feature though! An impressive pizza oven provides a delightful touch in the kitchen. The house has its own bar, nestled conveniently beneath the stairs – another great feature. There is also a billiard table and a table football on the ground floor. Externally there is a wraparound covered terrace, meaning al fresco dining can be accomplished even when the intense Umbrian midday sun beats down.
A private swimming pool takes centre stage outside, which, in the same playful style as the rest of Villa Due Santi, is divided across two levels and has a separate Jacuzzi.
The whole of Villa Due Santi is decorated in a bright and appealing style, tastefully combining both contemporary and traditional furnishings, including several funky prints.
Villa Due Santi's six bedrooms are all furnished in their own unique style. The master double bedroom on the first floor has an en-suite shower room and access to a panoramic terrace, where guests can drink up the stunning views that extend across Umbria's vast plains, woodlands and hills in the distance.
If you can manage to drag yourself from Villa Due Santi and its many fabulous delights, then Umbria at its most compelling is on your doorstep. Ponte Rio is just 2 kilometres away where you can pick up those vital holiday amenities. Slightly further afield – 7km from the house – is the beautiful town of Todi, which is perched on a hillside with two crests and overlooks the east bank of the River Tiber. With incredible views from every angle, as you can imagine, Todi is well worth a visit.
The larger, more famous Italian cities are also within reach, including Perugia, Spoleto and Rome.
For more information, to view photos and for accessibility to stay in this superb Umbrian house, visit: https://www.vintagetravel.co.uk/villa_details.cfm?p_id=2372