06 Oct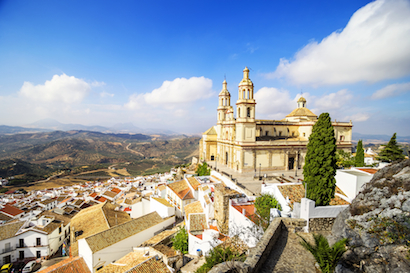 The Southern Spanish city of Jerez de la Frontera is a real privilege to visit. As well as its famous Flamenco dancing and internationally-admired white Andalucian horses gracing the surrounding countryside, this traditional yet elegant town also has more than its fair share of magnificent buildings. Though we have to admit Jerez's most famous association is its wine.
Being globally-recognised for its local sherry, brandy and wine, it stands to reason Jerez was awarded the European Wine City of 2014. Wine lovers and buyers from all over the world have been descending on Jerez this year. Whilst wine shows and events have taken place in Jerez throughout 2014, it is the autumn, with the wine harvest, when the town will really come alive with visitors.
The accolade of European Wine Capital of the Year coincides with it being a special year for Jerez, which commemorates its 750th anniversary.
2014 might be an especially vibrant time to visit Jerez but the city remains as stunning and culturally-enhancing whatever time you decide to visit.
The buildings of Jerez stand up to any in the province of Cadiz or the whole of Andalucia for that matter. The Alcazar is a beautiful Moorish stronghold set upon the highest point in the city. This Moorish palace is superbly graceful with delightful pretty gardens and well-preserved arches. What's more, every Monday morning visitors are permitted into the Alcazar free of charge.
Jerez's cathedral is also well worth a visit, as is the church of San Miguel. The detail inside the church is incredible and the altar piece will certainly draw your attention, with the arch angel fighting off demons!
Horse enthusiasts will also be in their element in Jerez and could not possibly call into this city without paying homage to the world famous Andalucian white horses. The Fundacion Real Escuela Andaluza del Arte Equestra hosts exciting equestrian events all year round.
Whether you love wine, horses, flamenco or history, Jerez de la Frontera has it all, particularly in 2014 with people from all over the world are flocking to its streets, intent on sampling the city's famous tipples.