29 Jan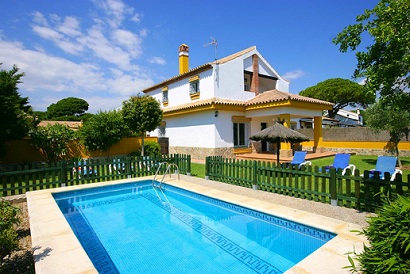 The Costa de la Luz is one of Spain's best-kept secrets. Here you will find some of the best and most unspoiled beaches in Europe: tiny hidden coves and long, pine-fringed stretches of soft white sand, bathed by the sparkling azure waters of the Atlantic Ocean.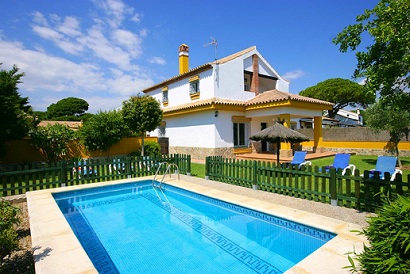 With a Costa de la Luz holiday, you can explore the intricate streets of mediaeval villages, enjoy freshly-caught fish in seaside restaurants, marvel at the wildlife in the protected natural parks, visit the beautiful and historic cities of Cádiz, Jerez and Seville, which are all within easy reach. And, of course, relax in your holiday villa with its own private pool.
Those in the know return to this Coast of Light year after year, but you don't have to take our word for it. Our clients' comments explain why you'll fall in love with a Costa de la Luz holiday in this delightful area of Andalucía.
"Tim loved the day trip to Tangiers; Kerrie loved the flamingos on the boat trip to the Doñana nature reserve; Flo loved having a beach 5 minutes away; Uncle Richard loved the fish and wine; Stephy loved going on a horse and cart in Jerez; George loved going on the train at the Tio Pepe bodega in Jerez. And we all loved swimming in the pool every day!"
The Grant Family (and Uncle Richard) stayed in Casa Almendro, El Colorado, Conil (pictured).
"We had a magical time and I can't begin to describe how perfect everything was. The swimming pool and surroundings were stunning and protected by the most amazing climbing plants and fruit trees. At night we could hear owls hooting. I actually cried when I had to leave."
Ms. S. Roberts stayed in Casa de la Fuente, Vejer de la Frontera
"We had a wonderful week. Fuente del Gallo is a great location – a single, palm tree lined road that leads to a quiet beach. The garden is a great size, the boys kicking a ball around – and safe.1 minute from the house is a neighbourhood restaurant that has good food. Cadiz is only a 30 minute drive away, the Torre Tavira and its Camera Obscura was loved by the boys.
The Woodard family stayed in El Chozo, Conil de la Frontera
"Great house and great pool! Fab barbecue and amazing chameleons on the poolside fence. We loved El Palmar and Caños de Meca beaches. Don't really want to go home….."
The Jacobs and Woods families stayed at Finca Cigüeña, Hozalejos, Chiclana
"The cove at Roche was our favourite with rocks for shade and great swimming. Bolonia was a great day out, the beach and Roman ruins of Baelo Claudia were impressive and lunch at the bar on the beach was friendly and tasty."
The Sharman family stayed at Casa Olivo, El Colorado, Conil de la Frontera
"A beautiful place to stay in quality accommodation. We loved the house, the grounds and the luxury of a decent-sized pool. Thank you for your generosity, Jean Pierre."
Lyn and Jo stayed at La Olivilla, Vejer de la Frontera.
"Our highlights were Gibraltar – take the cable car to the top of the Rock for amazing views (including the mountains of Morocco) and of course the apes – Vejer, which is a lovely town (we thoroughly recommend the Jardín de Califa restaurant) and Jerez, where we visited the Tio Pepe sherry bodega which was very interesting."
Fiona, Julian, Katherine and Lexie stayed at Casa Abeto, El Colorado, Conil de la Frontera
"We had a lovely stay and managed to relax as well as see some of the lovely places nearby: Cádiz, Jerez, El Puerto de Santa María. We also had a lovely drive along the coast to Cape Trafalgar and on to Vejer. Everyone has been very friendly and helpful. We hope to be back soon, perhaps for a wedding anniversary as we got engaged at Casa Manue on this trip!"
Charlie and Andy stayed at Casa Manue, El Colorado, Conil de la Frontera.